This was the first picture I took of J.  I hadn't even seen his eyes open yet.  She passed him to me just like this…peacefully sleeping…in a diaper and a t-shirt and an infant carrier that was sized for a newborn.  And this seemed fitting to me.  He was supposed to be a newborn.  That's what I was told anyway.
"Mrs. Clarkson?  We know that your adoption was just finalized with your daughter…but we have this baby…"
I was told that he was 2 1/2 months old.  I was told that he had nowhere else to go…and had, in fact, been sleeping in the CPS offices for the past two nights.  In his car seat.
"Would your family be willing to take him, she asked?"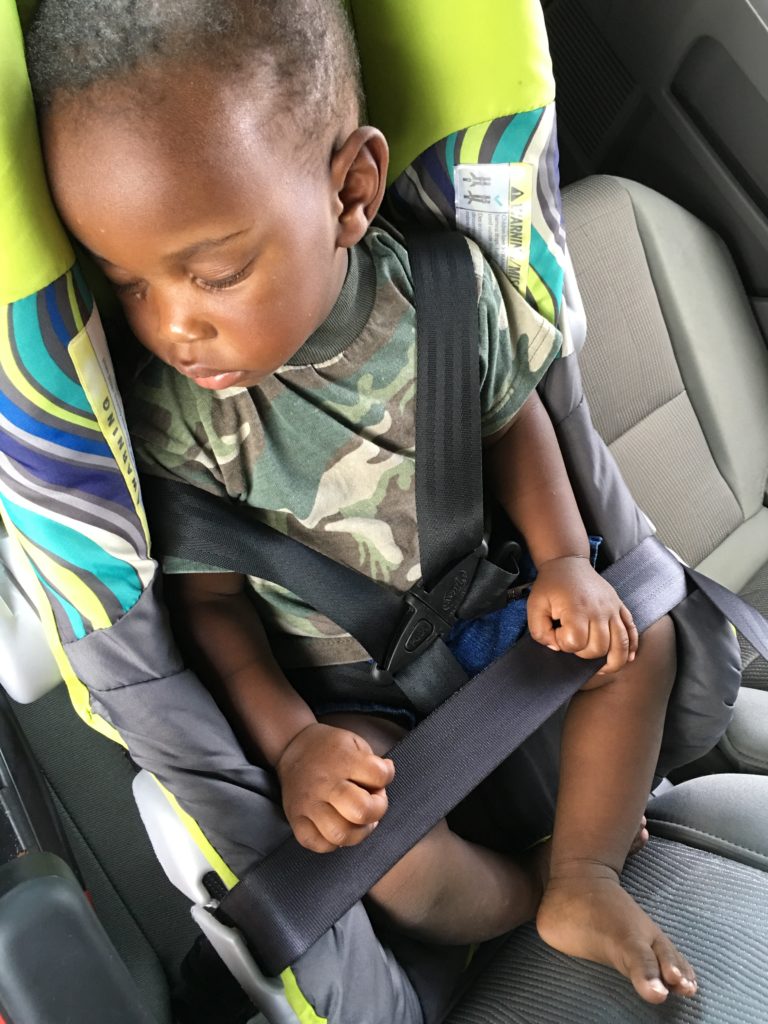 So…I met her in a parking lot to a teacher's supply store…about 45 minutes from our house.  I felt nervous for some reason. I was disappointed in a way…because I had found out the night before that he wasn't 2 1/2 months old, after all.  He was a head strong 16 month old instead of a dreamy, swaddled baby.  And a mother knows what that means.  He's mobile.
"I can't do a toddler!!!!!!" I said rather exasperatedly to Chad.  "I just can't!"  "I don't want to."
I had really good reasons.
We had just gone through trying to de-program and re-program the toddler that we were fostering and had become our adopted daughter.  And it was hard.  The hardest thing I had ever done.  And I didn't want to do it again.
"No."
"We can't do it."
"It won't be good for our marriage."
'It won't be good for our family."
"This kid will be running all over the cheer gym and the basketball stadium at Aiden and Colt's practices and games."
"Absolutely not."
"He will be into everything."
Obviously…none of my arguments and excuses held up through the night.  And they didn't sway our children either.  Isn't that just the way God likes to work sometimes???  Through children?  I'll never forget Aiden looking at my defiant eyes…with tears in her own…saying,
"Mom.  THIS is the baby that needs us.  THIS is the son who needs a mom and dad and a home.  It doesn't matter how old he is."
So I drove to pick him up.
Like I said…this was the first picture I took of him.  I sent it to Chad with the caption…
"He's so cute!"
I remember the quiet drive home…J asleep in the backseat…and my mind trying to grasp the fact that he will open his eyes from slumber…and have no idea where he is…or who he's with.  I couldn't understand how that would go.
But it did.
He started making noises…and I looked back at him so he could cock his head up and to the side and see me.  I smiled.  And I said "Hello."
He kept looking at me…but he never cried.
We stopped at Target to pick up some clothes, diapers, and baby food.
I knew nothing about what he liked…or hated…or was used to.  I was guessing.  And he was guessing about me too.
********
That was in August.
It's now June.  He's been our son…our grandson…our nephew…and grandson for almost a year.  And this year is the only year he really knows.  He has celebrated Christmas.  He has celebrated his foster bother's and sister's birthdays.  He has played with friends.  He has gone to his foster grandparent's houses for Thanksgiving dinner and been rocked by his foster grandparents from Iowa.  He's had more "firsts" than I can count…like the first time to feel sand between his toes and the first time to the rodeo and the first pet of a horse.  He's cut teeth and grown inches.  He's fallen in love with cotton candy and decided that he doesn't like bread.
He is an important part of our family.
I've changed his diapers…bathed him…conditioned his course hair…been thrown up on…and treated him like he was my own.  I've tucked him in at night with lullabies and determined that his very favorite one to fall asleep to is Moon River.  I've helped him overcome a fear of the garbage truck…and the dog's bark.  I've wiped his tears after his birth mom didn't show up for a visit with him.  I've disciplined him for hitting and biting.  I've taught him how to communicate with sign language.  I've memorized the coconut smell of his hair lotion after his bath and know the feel of his forehead against my lips when I kiss him.
On Sunday…we will celebrate his 2nd birthday.
And then…a few weeks later…
he will leave.
The court hearing for his case was yesterday.  And this morning…our caseworker called Chad.  She knew me well enough to know that Chad would need to be the one to tell me instead of hearing it through some sort of cell phone sound wave.
The judge has given custody to his great aunt.  He will be with his brother and sister.  And the beauty of this is that he won't ever have to wonder why his family wouldn't take him.  He won't ever have to question if they wanted him.  The abandonment won't be as cutting for him as it would have been otherwise.
But the ugliness of it is that we are losing him.  Our kids are going to look at his empty highchair at dinnertime and hurt.  I will pass an empty crib in an empty room and ache.  The ugliness is foster care…and the need for it.  The ugliness is that he is non-verbal…and he is going to use sign language and non-recognizable words to ask where we are.  He's going to want his lullabies…and to play basketball with Colton.  He's going to want to feed the squirrels in the front yard while I drink my coffee in the mornings.  He's going to want to play with the pretend food in his sister's room…and sit in his highchair and watch Sprout when he gets overwhelmed.  He's going to long for time-out after he hits someone…because that is what shows him security and reassures him that he has parents that love him enough to teach him how to be kind.  He's going to want to go home.
********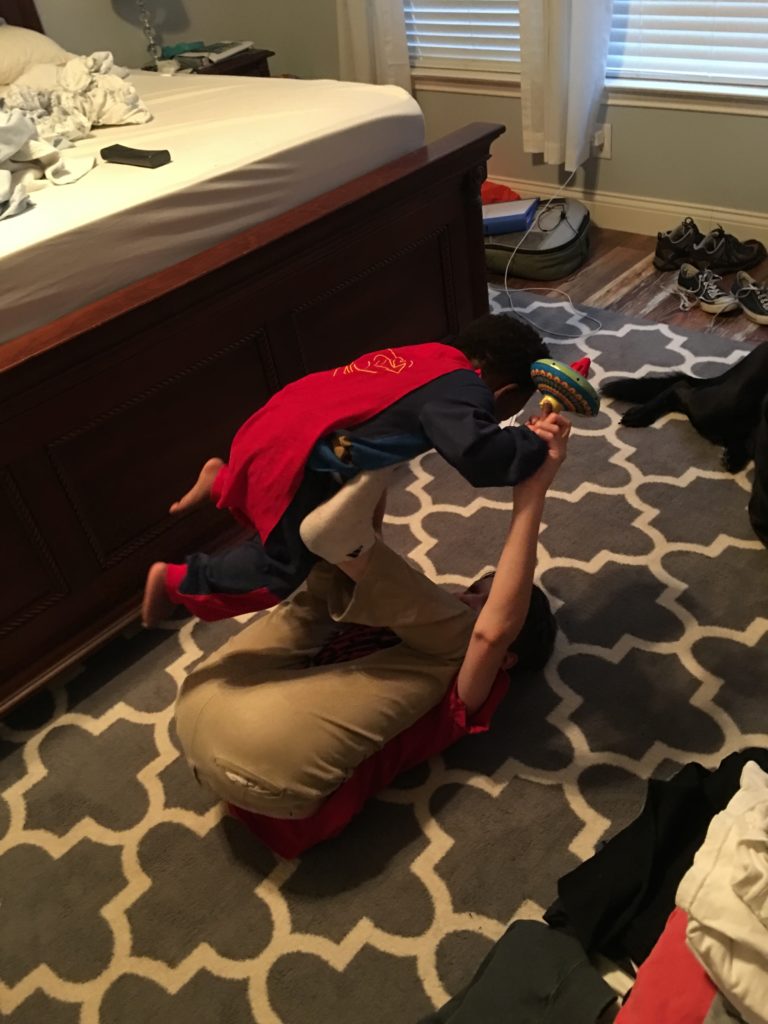 I've already pictured 15 years from now.  I picture Chad and I googling his name…trying to get a glimpse at his teenage face.  I wonder if we will recognize him.  I wonder if he will still love basketball.  I wonder if he will remember us at all.
I took this picture tonight.  He's wearing Chase's old, Superman pajamas.  He doesn't have a care in the world…other than not wanting to go to bed yet.  He has no idea what is ahead of him.  And that just reminds me of this life on Earth.  None of us has any idea what tomorrow holds.  I used to hate that worship song…you know…the one that says…"God gives and takes away…"
I would pretend like I didn't hear that part.  I wouldn't let the words really permeate my heart…but would focus, instead on the catchy beat.  Because at that point…God had really only given to me.  And I liked that part of God.   I trusted that guy.
After losing 3 babies in 3 years…which still sounds absolutely crazy to me…and answering the call for our family to do foster care…I've had to face the "takes away" part.
It's been painful.  Excruciating at times.  But I'm here.  And I trust that guy…
the God that gives and takes away.
And tonight…I rest in the fact that we did exactly what we were supposed to do for J.  We took him…when no one else would.  We loved him.  We filled in that gap…until his forever family was ready and able.  And I'm trusting my good God to take care of him for his lifetime.  And I'm trusting Him to take care of us too.