This past weekend I did something that I never do.  I left.
It wasn't too long ago that I sat on the couch one night and told Chad, "I need a plane ticket.  I'm going to Clemson."
Technically…I was going to Atlanta.  But in my mind…
…same thing.
My closest Clemson friend lives in Atlanta…and we were due a visit.  So without any questions…that man bought me a ticket.  Reason number 974 why I love that guy.
Well…I was only to be gone Friday – Sunday.  That's only 1 full day away from these babies.  But the puddin' cup wasn't happy.  It was all I could do to get sister to school.  This is where I found her when our carpool was on their way Friday morning.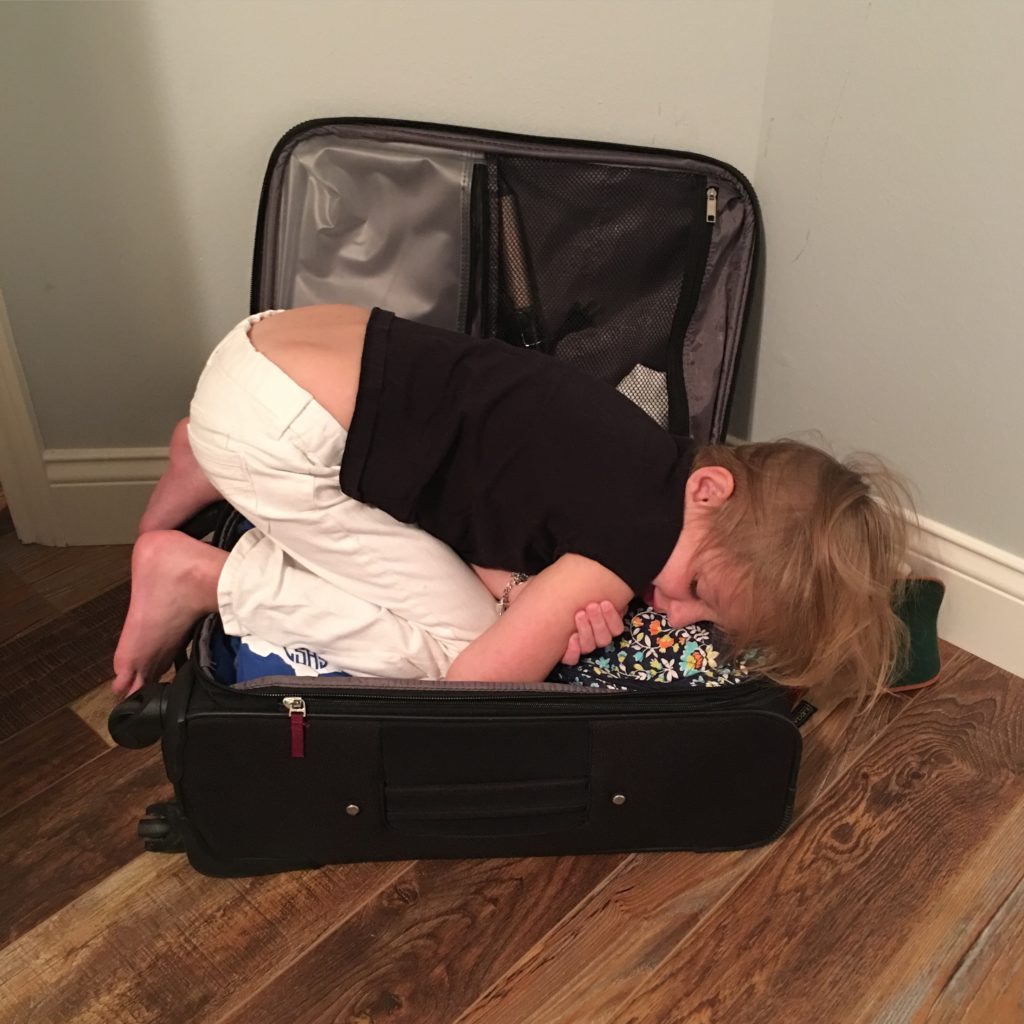 And when that didn't work…she came down in this get up and confidently declared,
"I'm ready…and I'm going with you."
She got mad props for the hat.  And at this point…if she would have fit in my suitcase…her accompaniment was a real possibility.  She got to me with that hat.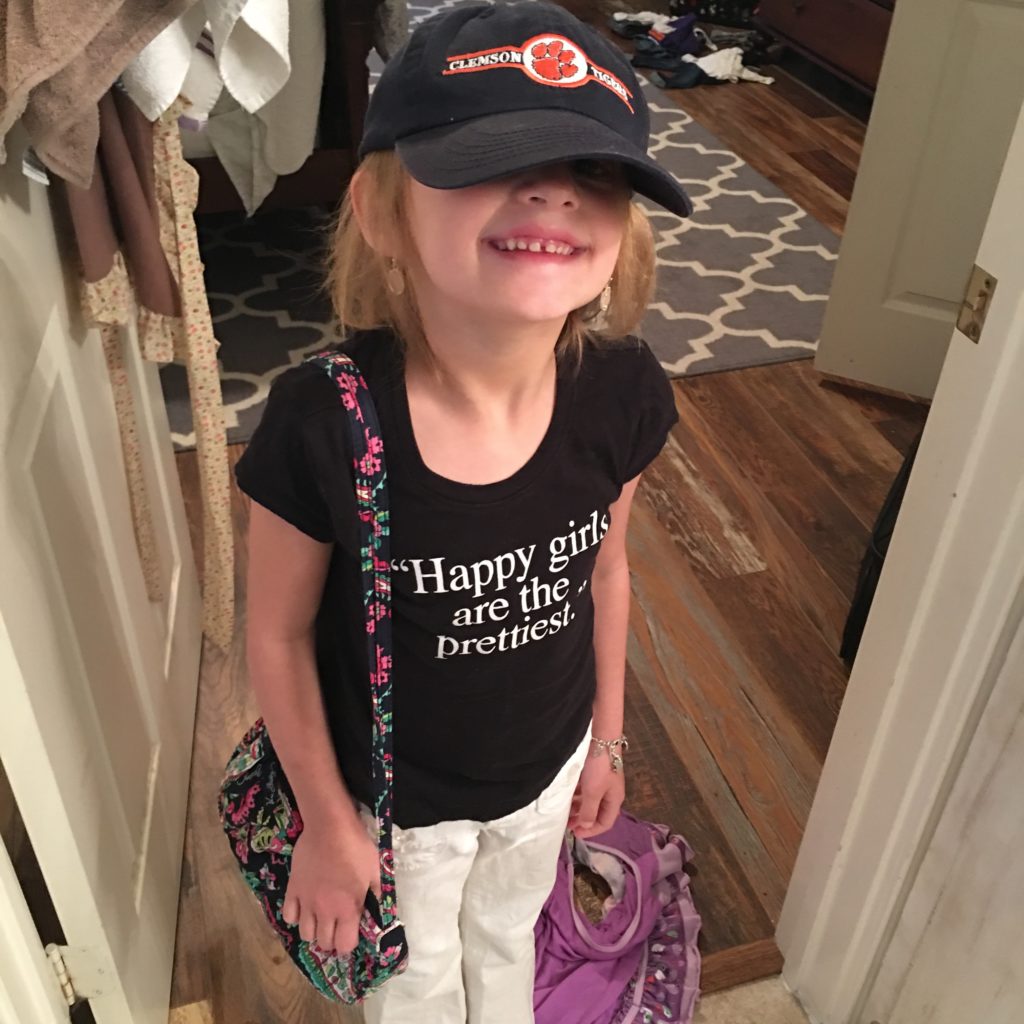 There is nowhere on Earth like Clemson.  I know you may think that I'm exaggerating…but I'm telling you…
…there is nowhere like it.
It's a beautiful place.  With beautiful people.
These are some of my Clemson girls.  These people are some of the most amazing women I have ever known.  They embraced me without question when I moved there and was the "new girl" and I will love them forever.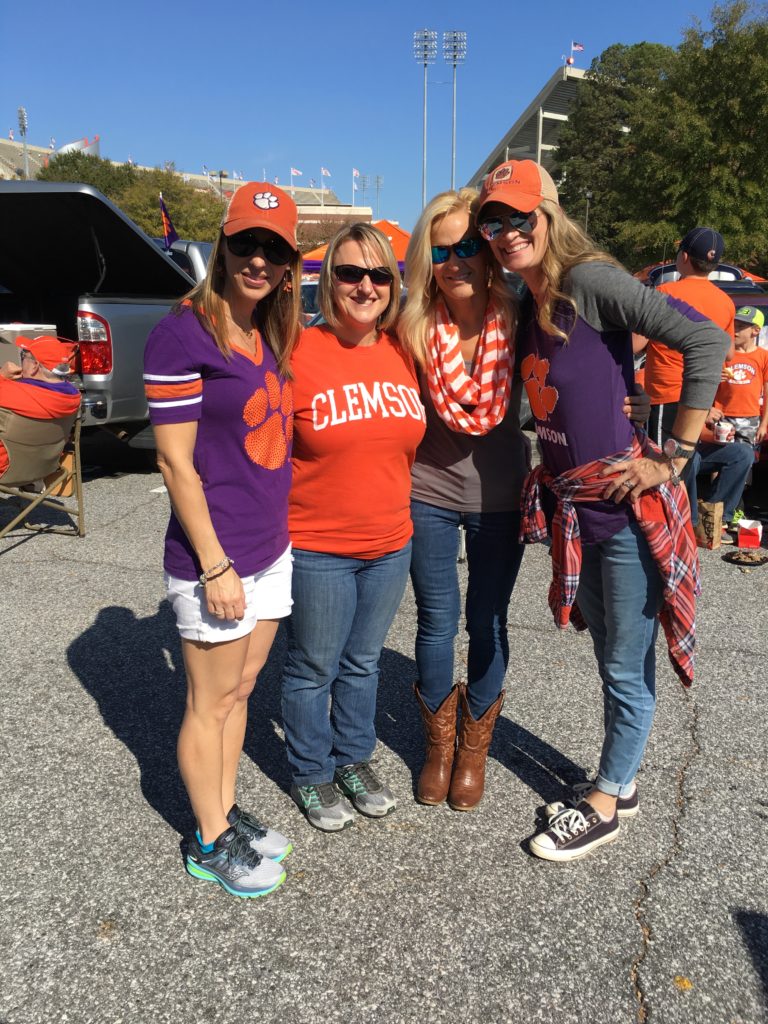 I don't think I could love this picture more…from the thrill on my face-to the busses that load the players for the legendary trip around the stadium before the game-to one of my best friends-to the sun streaming down on the Clemson Tiger.  It's all so perfect.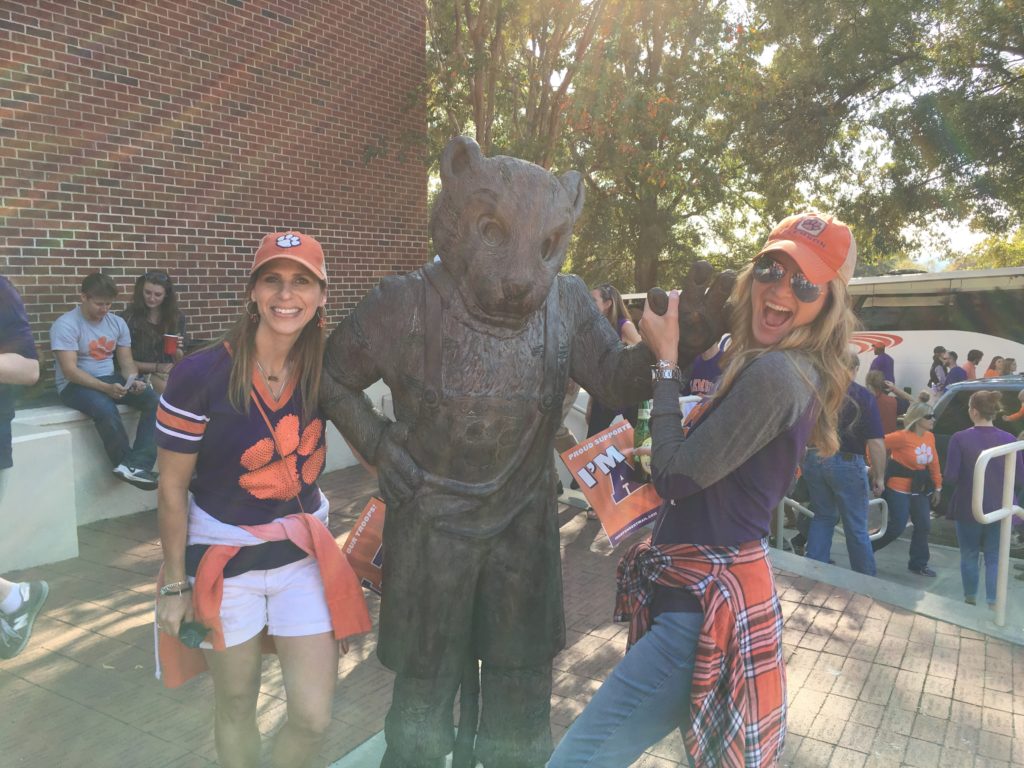 Our seats were unbelievable.  And our Tigers wore the purple uniforms…which hardly ever happens!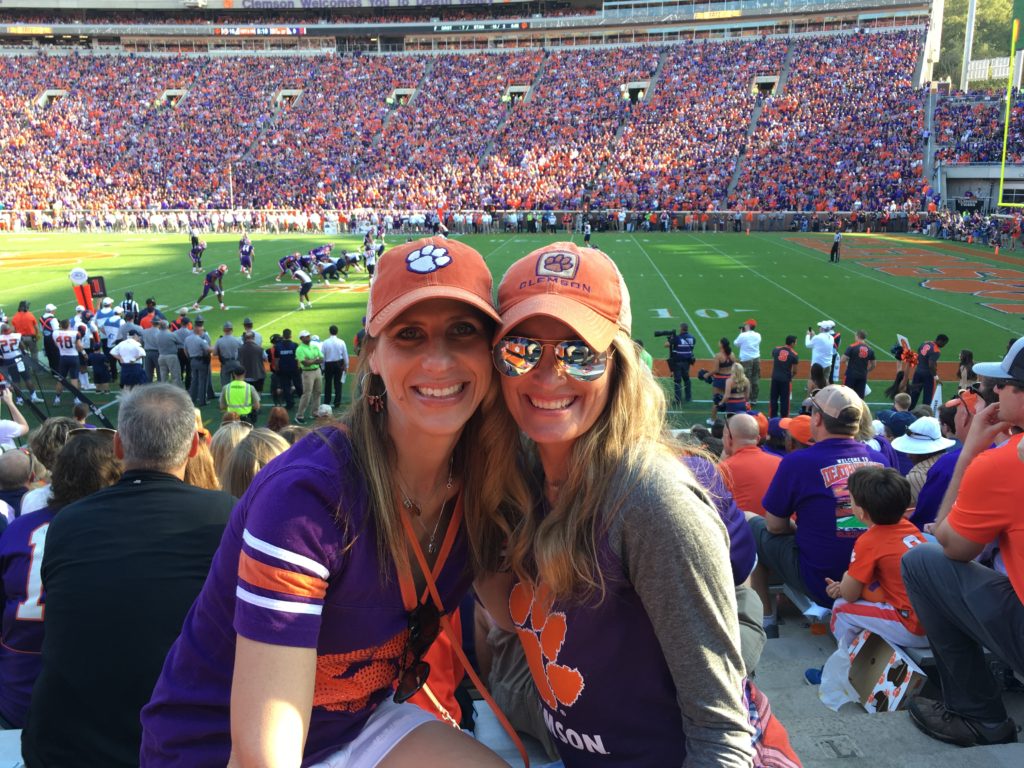 I wanted my children so bad at this point.  I couldn't even stand it.  I knew…that if my oldest son had been with me…it would have sealed his fate as a Clemson Tiger.  His very first football game was here…14 years ago…or just yesterday.  I can't decide which.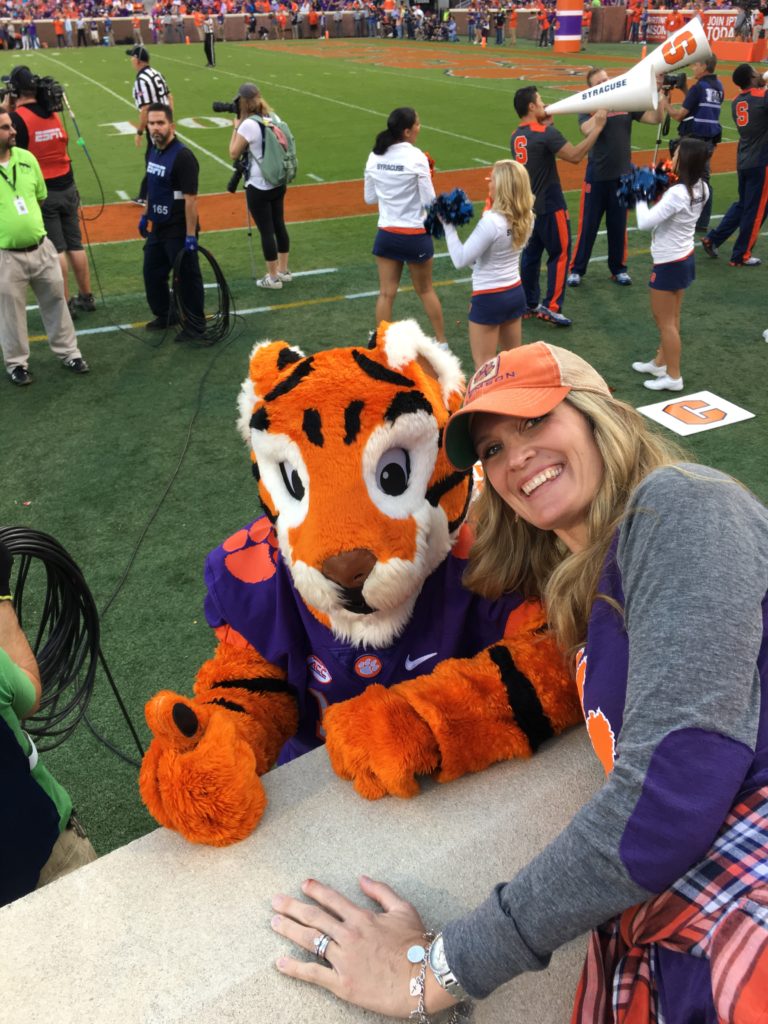 It's hard to say what was happening here.  We had just beat Syracuse…and Death Valley was a sea of purple and orange.  I had never been on the field before.  And it's hard to explain how all of my Clemson past was being tied into a nice bow of purple and orange curly ribbon.  This stadium was where Chad and I had our first date.  This stadium is where he proposed.  This stadium is where we became us.  It's where we started.  And look at what has come from it?  If you would have told me that night when he proposed that we would be the parents of 6 kids…I would have told you to get off the crack.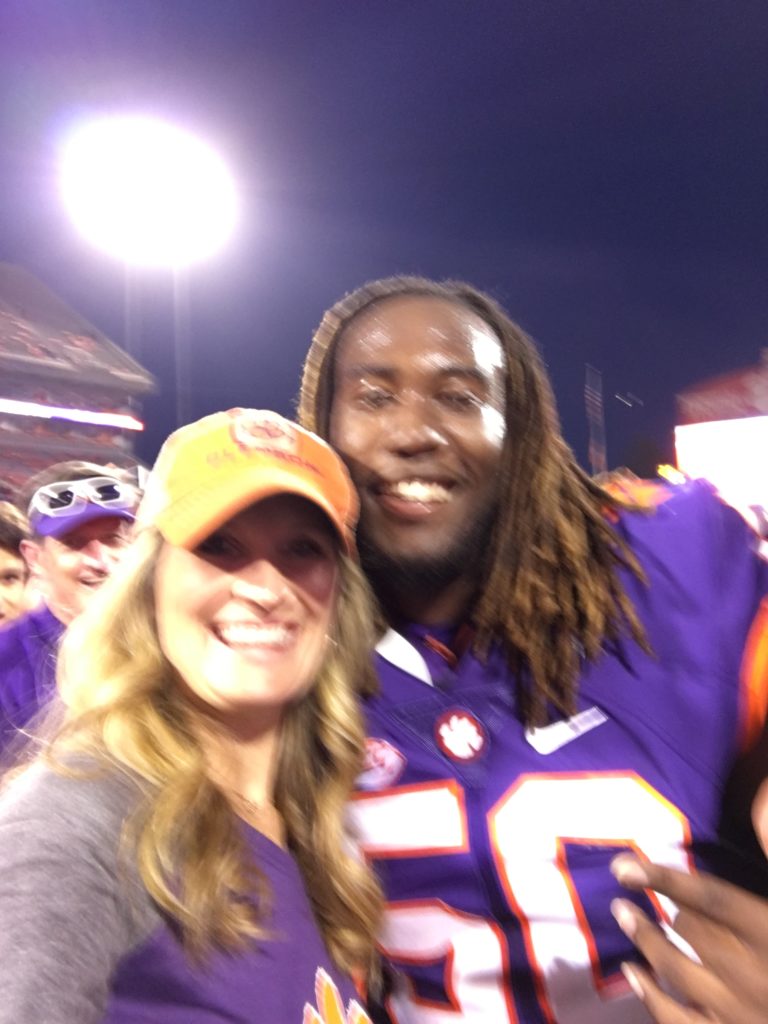 I maaaayyyyy or may not have kissed the paw print mid field.  The jury is still out on that one.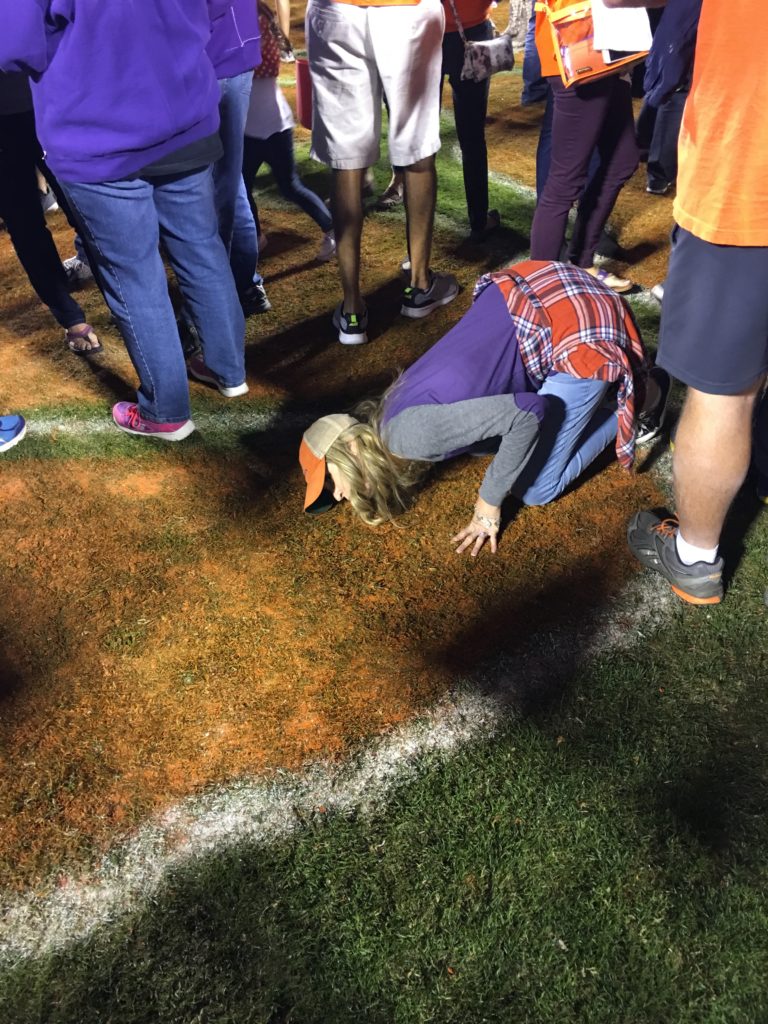 Our few from the hill.  See??!!  I told you!!  A sea of purple and orange…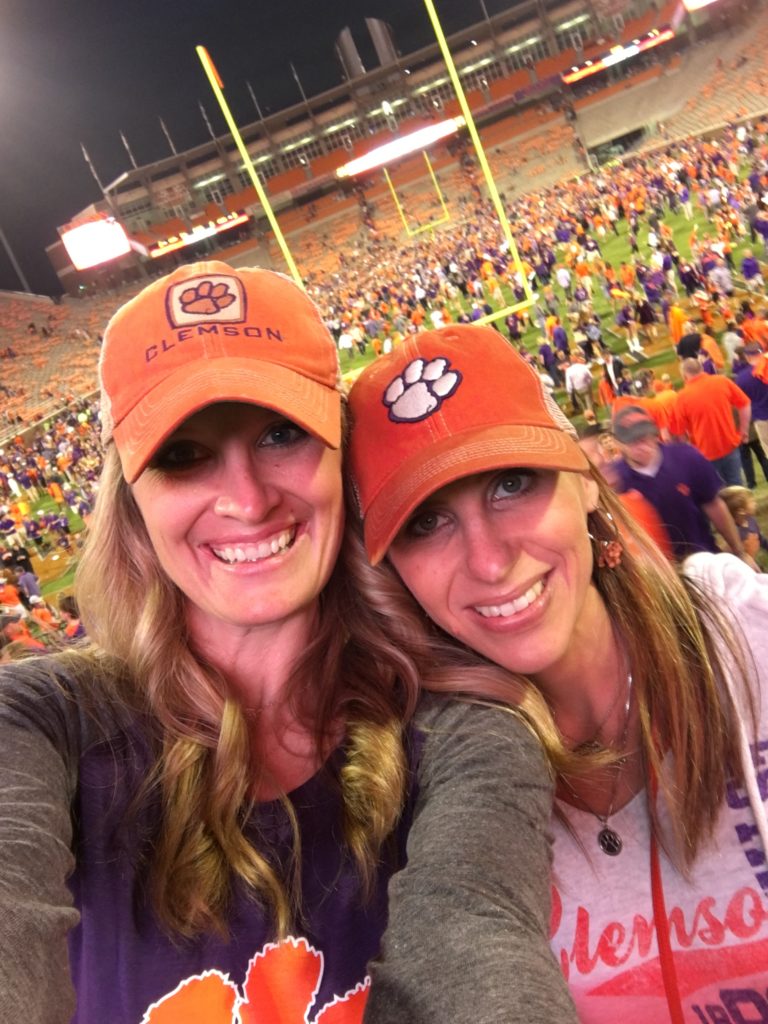 …just like a beautiful sunset.
I love Clemson.  I will love it forever.