This is my mom and Honey.
Honey is my mother's mother.  My mom calls her "Mother."  She always has.  That's something that I remember thinking was strange when I was little.
Mother.
So formal.
But now…when I hear her call Honey that…it's not strange at all.
The word…when it comes off of mom's lips is respectful…
loving…
and filled with care.
And this is fitting…because it's how Honey has always felt about her daughter.
I would listen to Honey talk about my mom as a child…and I always knew that the way she felt about her was more.  That's the only word I know to use.  She just felt "more" about her.
More appreciation.  More love.  More respect.
She felt more of these things for my mom.  I knew she did.
But I didn't really understand all the reasons why.  I knew that my mom was special.  I knew she was different all throughout my childhood.  I always imagined that we were school friends.  I always wanted to be like her.
But…it wasn't until lately that I fully got it.
It wasn't until now that I totally understand why Honey felt the way she did about my mom.
It was because she didn't ever think she would have her.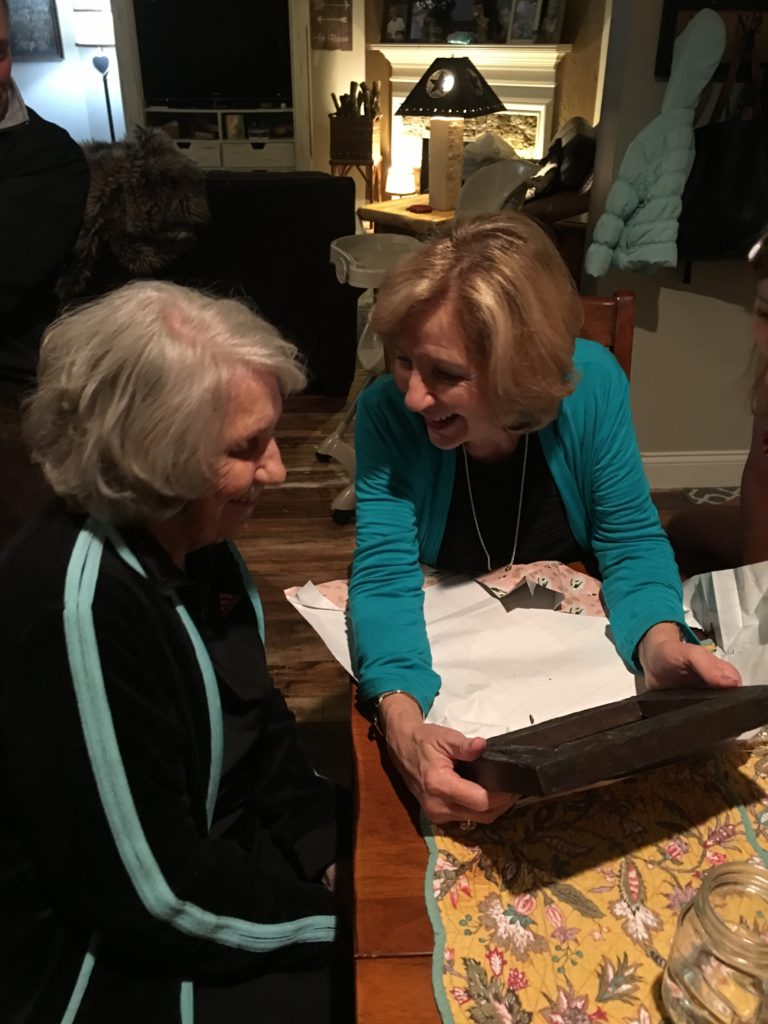 When I was a teenager…and realized that I was more than a tomboy who played soccer, climbed trees, beat the boys in tetherball and swim races, and preferred to play night hide and seek to house or dolls…I thought about having babies.  And I remember a pretty early fear being losing one.  I had heard the stories about both of my grandmothers.  And I guess those stories had stayed with me more that I thought they had.
My Dad's mother and father had a baby boy.  His name was Richard.  He was born after my dad…and before my aunt.  I don't know how long he lived, for sure…but I don't think it was more than a couple of days.  I remember my grandpa looking at Colton as a baby and watching him breath as he slept.  I remember him not taking his eyes off of him and telling me, "He is broad through the chest."  I thought his comment was weird.  I looked at him…and realized his eyes were filled with tears as he watched my first son take peaceful, baby breaths in his bouncy seat in front of the fireplace at my parent's house.  And then I understood when he said…
…"He reminds me of Richard."
****
I had also heard the story about the baby that Honey had lost.  She and my PawPaw had wanted and tried for a baby for a long time.  He was in the Navy.  And she got to go out and visit him.  His mother had told my grandmother that she would get pregnant when she was there.  And she did.
They had a son.  His name was Donald.
Honey went into labor with him when she had the flu.  And she was long passed due.  She wasn't conscious when he was born…from what I remember.  She says that she remembers a lot of her family members coming to visit her in the hospital.  And she began wondering why those people were there.  She thought that the baby was in the nursery.  But too many people were there, she says.  She began wondering what was wrong.
Donald lived for 2 days.  And they didn't tell her that he had died until she was well enough to receive that kind of news.  As if you ever are.
Her doctor told her that she would never be able to have another baby.  I don't really know why.  And I don't think she does either.  But that doctor told her that if she tried to have another baby…she would not live through the pregnancy…and that the baby wouldn't either.
She didn't listen.
And she got pregnant one more time.
And she had my mother.
And the weight of that is so heavy…that I drop tears writing it.  She wanted my mom so much.  She wanted her so much that she was willing to die.
And that explains it all.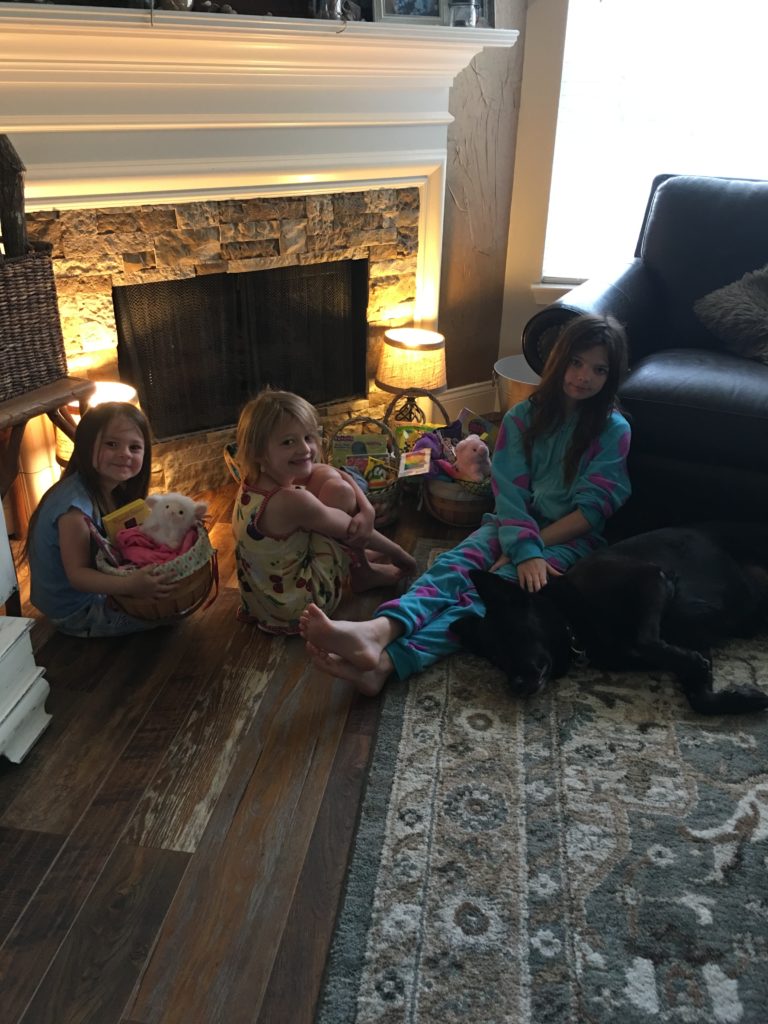 So…those stories made me afraid.  What if that happens to me?  Each time I got pregnant I wondered…
"Is this the one?"
But I had my four sweet babies…and I began to let go of the fear that those kinds of things had any kind of magical power over grandmothers and their granddaughters.
But just as I had let those thoughts go completely…
It happened.  It happened three times in a row.  It happened, what seemed like, over and over again.
And I can only imagine the "more" that Honey felt about my mom…the way I imagine how grateful I would be if God put a baby in my hands and said, "Here.  I have been saving this one just for you.  It will never replace the three that you lost…but here it is."
I wouldn't love that child more.  But there would be an appreciation for that child's life that I would never be able to deny.
****
I've been thinking so much about Honey these days.  Her body is becoming weak.  A translucent, icy blue has replaced a life in her eyes that was vibrant and full of joy.  She is tired.  And her memory is failing her.
She packs her purse with old greeting cards…or clothes…or things that seem important to her at the time.
And every time we talk about her purse…she tells me that her mother gave it to her…even though it was her Christmas present from my mom this year.
She talks about her brother, John Elbert, who died years ago and wonders why he doesn't come to visit her.  She asks where he mother is.  And when I tell her that she died a while back…she always acts surprised.
"She did?  Well…I didn't know that," she always replies.
And here's the truth.
My heart knows it's coming.
My heart knows that her time with us is coming to an end.
I know that I will ring her doorbell in the days to come…and she will answer it.  But she won't open the clear, glass storm door as quickly…and there will be a blank look on her face.  I imagine it all the time.  And it hurts so bad.  Because at that moment…I will have lost Honey.
And I'm spending every day with my husband…and my children…making them lunches and dinner and giving baths…doing laundry…and taking care of a child that's not my own.  I'm spending mornings with CPS case workers and documenting every time he lands himself in time out for hitting or biting or telling me "No."
But my heart longs to go to Honey.  I told Chad the other day…
"I need you to tell me…on a regular basis…
…I have this.  Go see your grandmother."
She wanted me to call her "Grandmother."
But PawPaw called her "Honey."
So that is who she is.
And she's here.  Right now…she's right here.
****
Easter 2017:
Aiden asked, "Mom??? What's our theme this year? I thought we were gonna all wear yellow."
I replied…
"Survival.  Our theme this year is survival."
Untied high tops???  I'm down.
The girl wants to wear her pajama bunny top with her favorite jean shorts????
Go for it.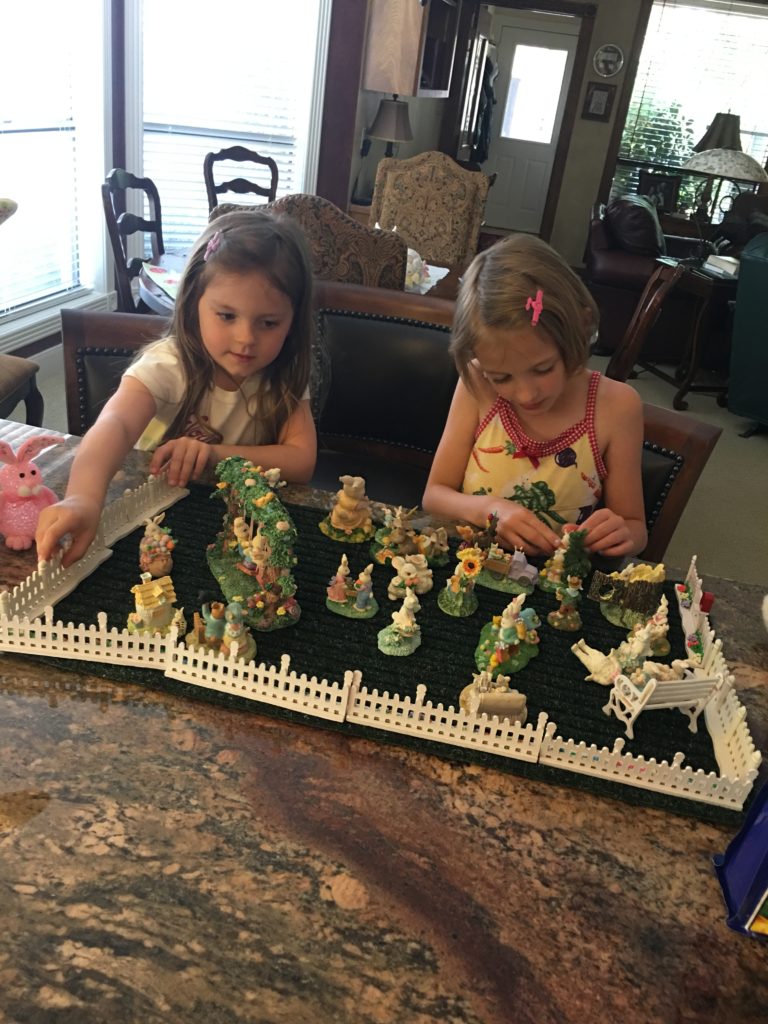 I love their relationship.  When they realized that I was trying to sneak a picture of them talking with his head in her lap…they started acting crazy.  But that's ok.  My heart remembers.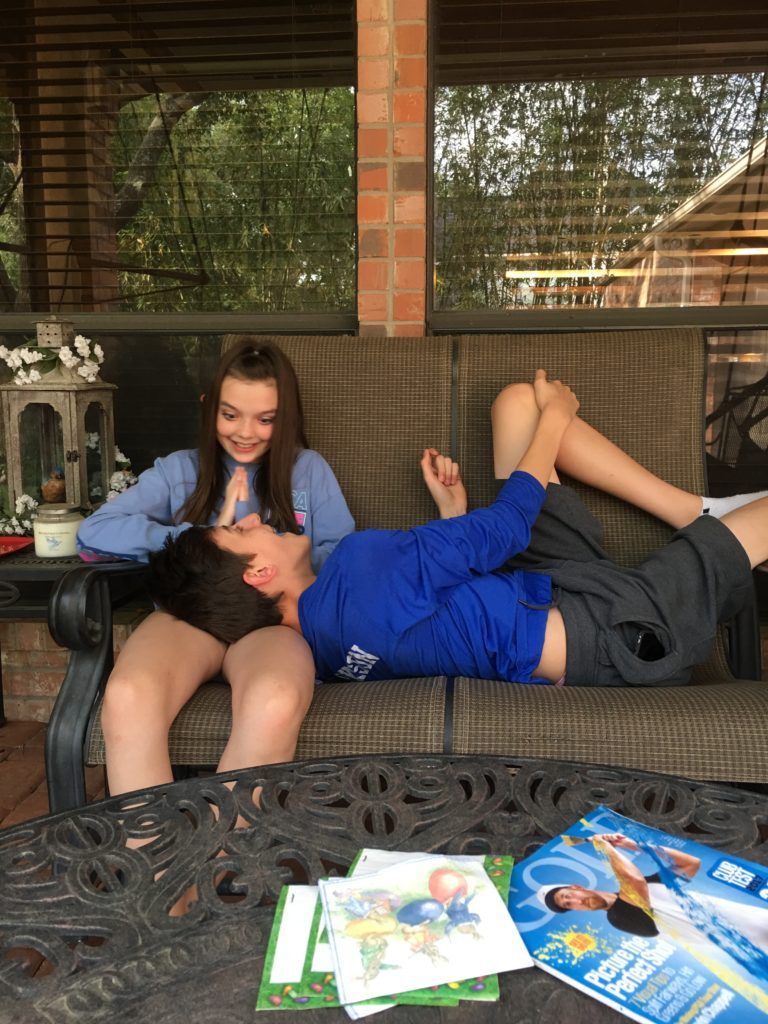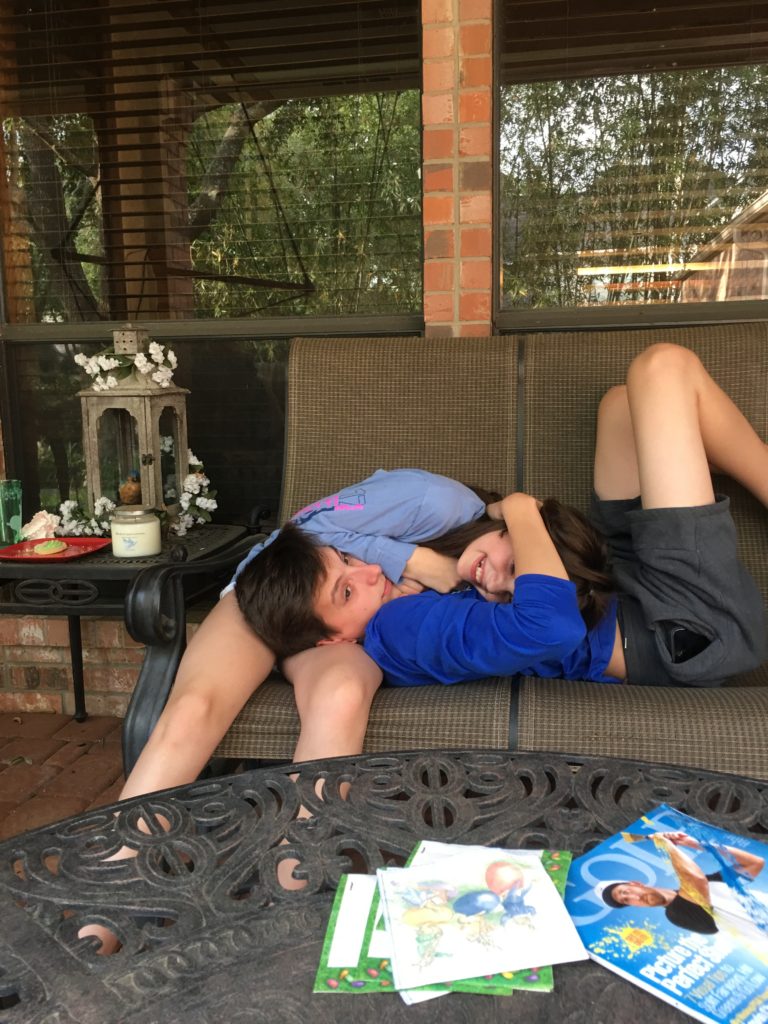 This is my Chase.  He is such an old soul.  And coincidentally…that's exactly how my dad sits in that chair.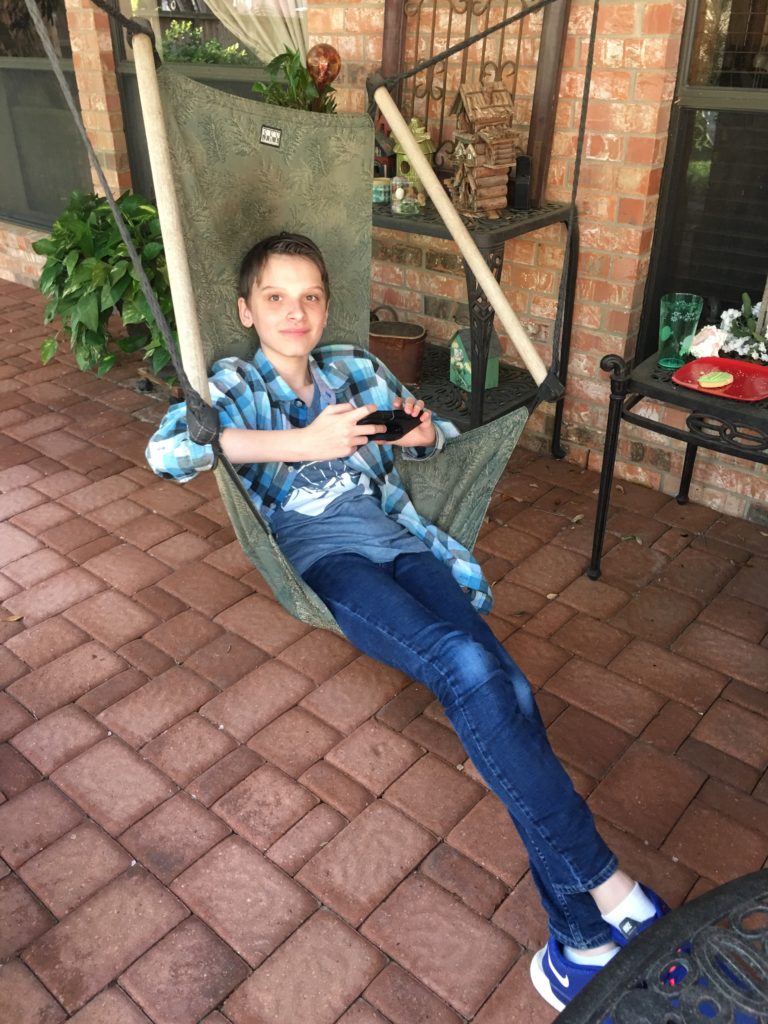 She's a girl on a mission.  She takes after her mother, after all.  She's gonna squeeze every last ounce out of the holiday that her little body can muster up.  Hide those eggs.  Just see if you can stop her.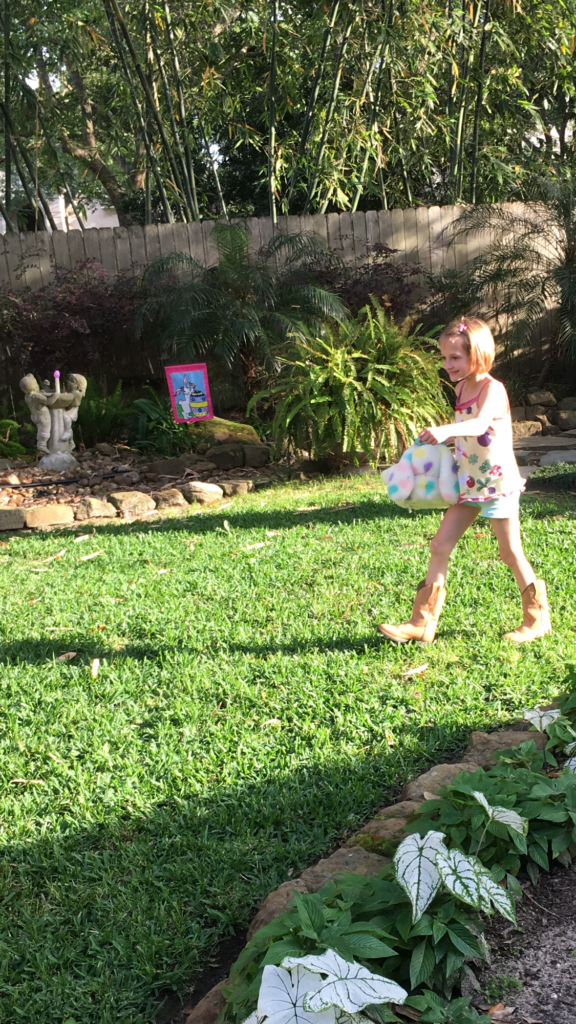 Right now…
she's here.
And she's using snapchat.
You're welcome, snapchat friends!  If anyone took a screen shot…please send it my way.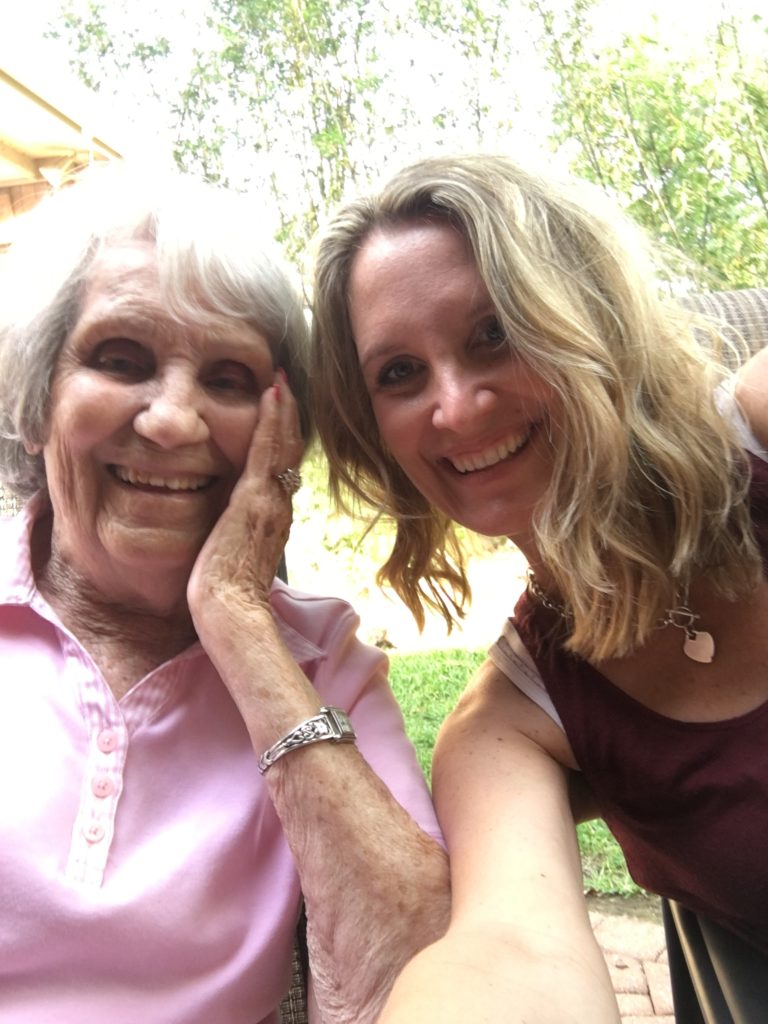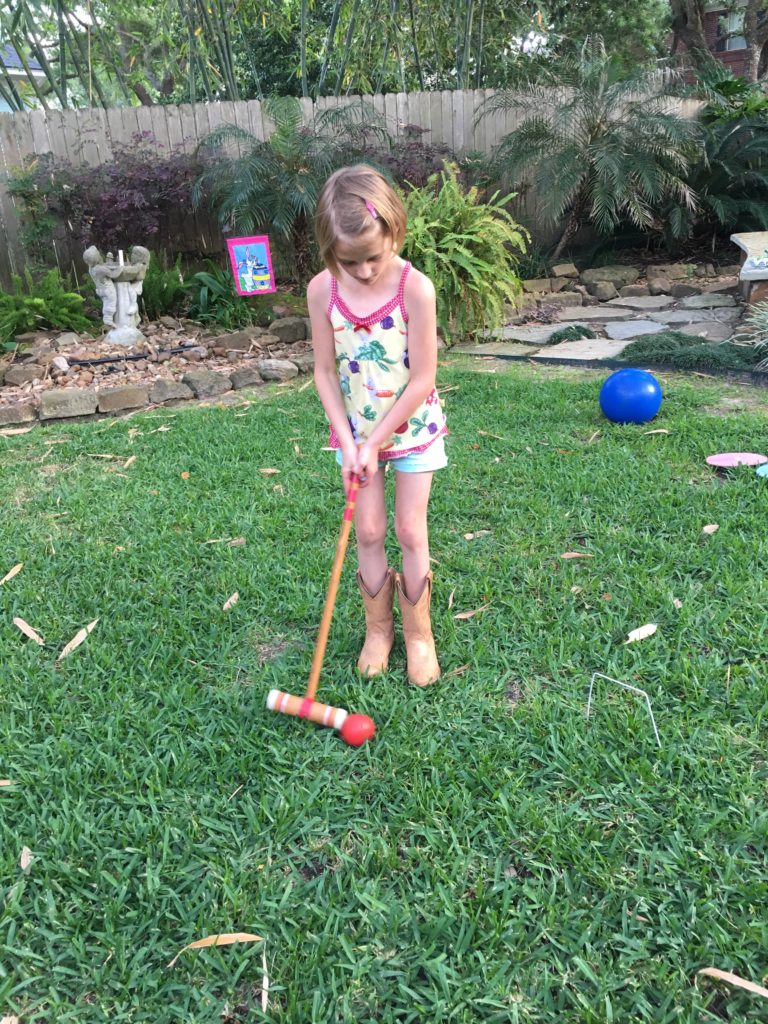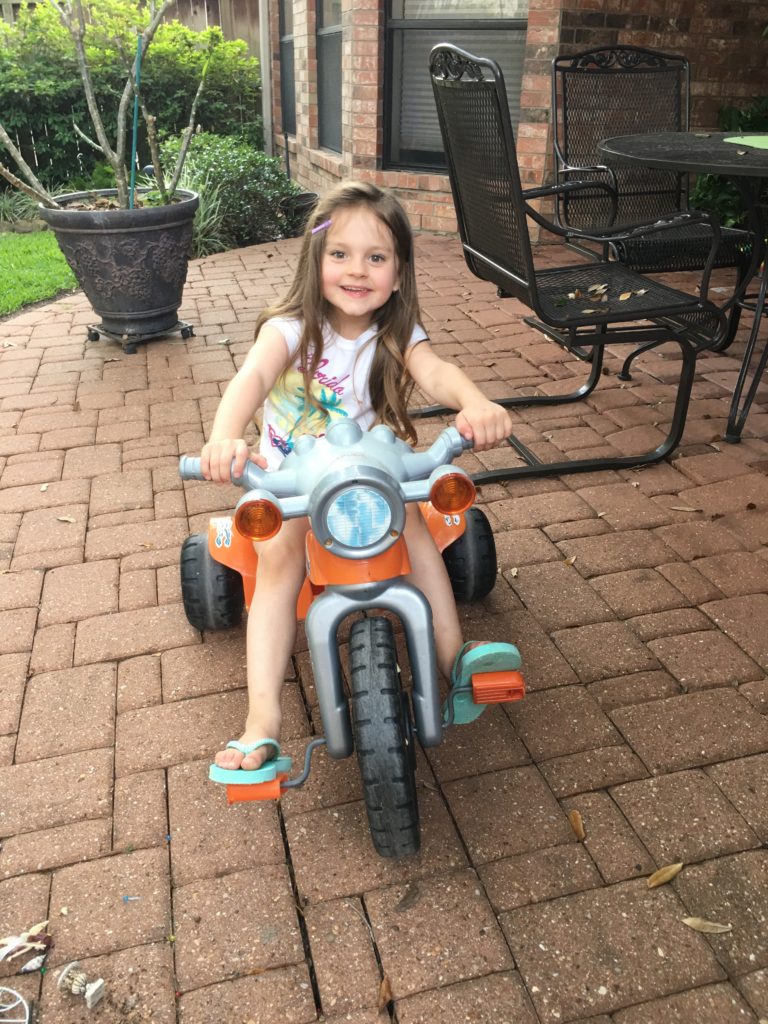 People always tell me that my blog make them cry.  My life is really, actually very happy!  But if you really think about it…
…there is a fine line between happiness and sadness.
And the two run together quite nicely.