I'm all, "Hmmmmm…what to say after so long???"  There are all kinds of holes in my story now…un-recorded memories and experiences.  My girls learned to snow ski in Breckenridge, Colorado for Heaven's sake.  And all I have to show for it are a few Instagram posts…and worse…Facebook photos.  "Shudder."  I hate it when…because of busyness or just plain laziness…important moments get logged as snip-its rather than stories.  I will get there.  I will get these Colorado vacations and Christmas and 8th Grade Basketball documented.  Even if it kills me.
Ok.  "Kills" is a strong word.
****
First things, first.
I have been up to my eyeballs in paperwork, classes, and smallish human beings.
September brought the start of a new school year, Fall, and on September 24th…an e-mail that changed our lives forever.
Chad and I have had countless conversations about adoption over the coarse of our 15 year marriage.  We have come very close to pulling the trigger on 2 different occasions…each time, Chad having to tell me that it wasn't the right time or circumstance.  I would always be disappointed…but would eventually come around to trusting his leadership and judgement.  Adoption is certainly not something we can go into with only one of us on board.
After this Summer of healing and renewing my trust in Jesus being who He says He is…I had an unwavering faith that:
A.  He is good.
2.  He knows what He is doing.
3.  He is working for us and not against us.
4.  He creates life for his Kingdom…not just this Earth.
5.  He had something for our family on the horizon.
and 6.  I had to rest in Him.
(side note…I just love it when people go from letters to numbers when making a list.)
I started praying about adoption again.  And Chad did too.  I was ready…but Chad needed to be "sure."
At one point, I remember specifically telling God that Chad needed Him to yell at him.  He needed a message from Him that was so obvious and loud that he couldn't ignore it.  He thinks with his head…so he needed a practical message.  I am content with "feeling" that something is right.  Chad needed the head knowledge for a decision this big.  I told God that unless he wanted to do a miracle in my husband's "thinking" mind (which he could totally do, by the way)…that there would need to be nothing short of a child dropped into our laps.  I kinda grimaced at that prayer that day…thinking that God was up there…all rolling his eyes at me, tisking, waiting to show me that He didn't need me telling him how to run things.  But I closed my prayer…remembering that I was talking to my Father…and not some cold, disciplinarian…critiquing my every word.  He loved me.  He heard me.  He got me.  And I knew it.
About a week and a half later…Chad got the e-mail.
"Is there anyone who would be willing to foster to adopt a 28 month old baby girl?"
I remember where I was sitting when he told me.  I remember standing up…saying, "YES!  YES!  DID YOU E-MAIL THEM BACK AND TELL THEM YES?!"
He kinda smiled.
Then he said, "I e-mailed them back and said…DO NOT SEND THIS TO MY WIFE!"
He was kidding.  And he had e-mailed them back.
So.  Here is where I skip a whole lotta "stuff" and focus on the fact that the Lord was loud.  He was loud about what He wanted us to do.  He has been continuously readying our family to do this thing.  He was clear about what our steps were to be.  And it's been a challenging and beautiful ride thus far.
We have completed our Foster/Adoption classes…and we are waiting on our fire inspection and home study and whatever child the Lord has for us to love for Him…for however long He will have us love them.  It's an unknown road.  It's a road that has to be traveled with nothing but blind faith and hope leading us.  There is no place for control on it.  Sometimes the road is made up of small, muddy trails…shadowed and dark and I can't really see where we are headed.  And there are screeching whispers of turning around and heading back to where we were before…because it's safer there.  And then sometimes the road is sunny and warm and bright…with bird's singing and chirping. And there is someone bigger…who very obviously knows love… who is in control, holding our hands and reminding us that He is a faithful path guide.  And there is skipping.  (I love skipping.)   And it's ours.  It's our road…with our faithful guide leading our way.  And I am so grateful for each and every step.
****
It just so happens that several weeks before we had any idea that any of this was going to happen…I sat across from Chad in the "Lodge" room with my coffee and my we-are-about-to-have-a-conversation face.
He looked up from his laptop.
"What?"  He said.
"I have been thinking about something a lot.  And I really want to do it.  I've decided."
He stopped me.
He said, "You want to get a boob job."
I spit out my sip of coffee.  "NOOO!!!!!!"
He laughed.  He's a funny one.  He will kill me for telling that.  It's ok though.  Totally worth it.
I recovered.  "I want the girls to share a room."
"Why???  What would we do with the other room?" He reasoned.
"I don't know.  Maybe it could be a guest room.  But…I just know that I always wanted a sister.  And I always thought that if I had a sister…we would share rooms like on the Brady Bunch.  And Aiden will be in Jr. High in TWO YEARS and then she won't want to share a room with her 1st grade sister!!!!" ( I was getting all "fast talking" and dramatic at this point) "And I think that it will really bond them and be a time that they will cherish and never forget!  And I think it will help keep Aiden young when society is screaming at her to act older than she is…and I think it will help Annslee not be so scared of her sister being out of her site if she knows they will be together at night. (Annslee had been suffering with a lot of attachment issues after her friend passed away)  And…I just really want this for them."
Chad looked at me…and I knew what he was thinking.
"Huuuuuuuhhhhhhhhh.  I'm going to have to move a bunch of furniture."
But what he said was glorious!
"Ok."
So we did it.  And I had no idea if Annslee's room…the room that had always housed the "baby"…would ever be occupied again.  And that was super hard for me on the first night that it was empty.  But I focused on the sister bond thing we had going.  And also how darling their shared room was.
My mother made that dress for my cousin before she was born…25ish years ago.  They gave it to Annslee and her first "official" baby picture was taken in it.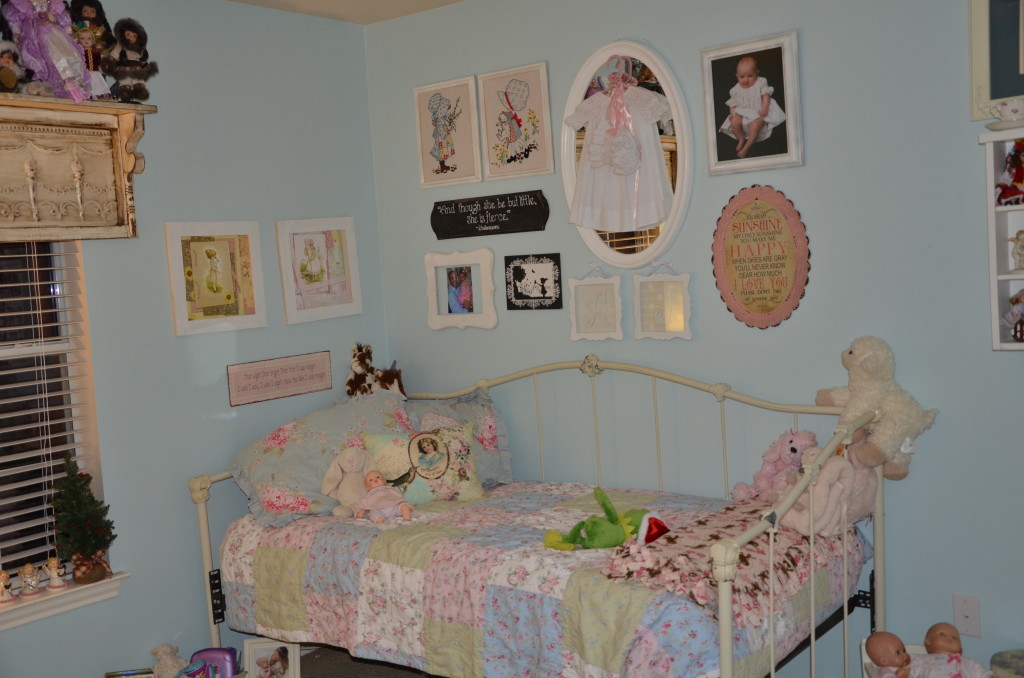 That was the first dress I bought for Aiden when I found out she was a girl.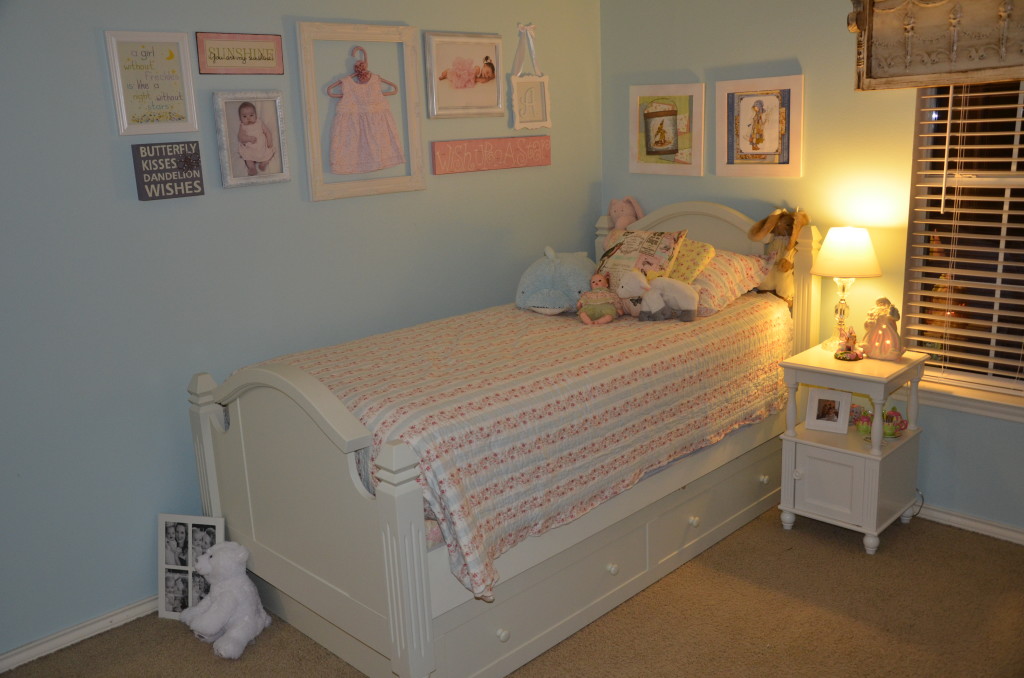 I kinda have an obsession with Holly Hobby.  And dolls.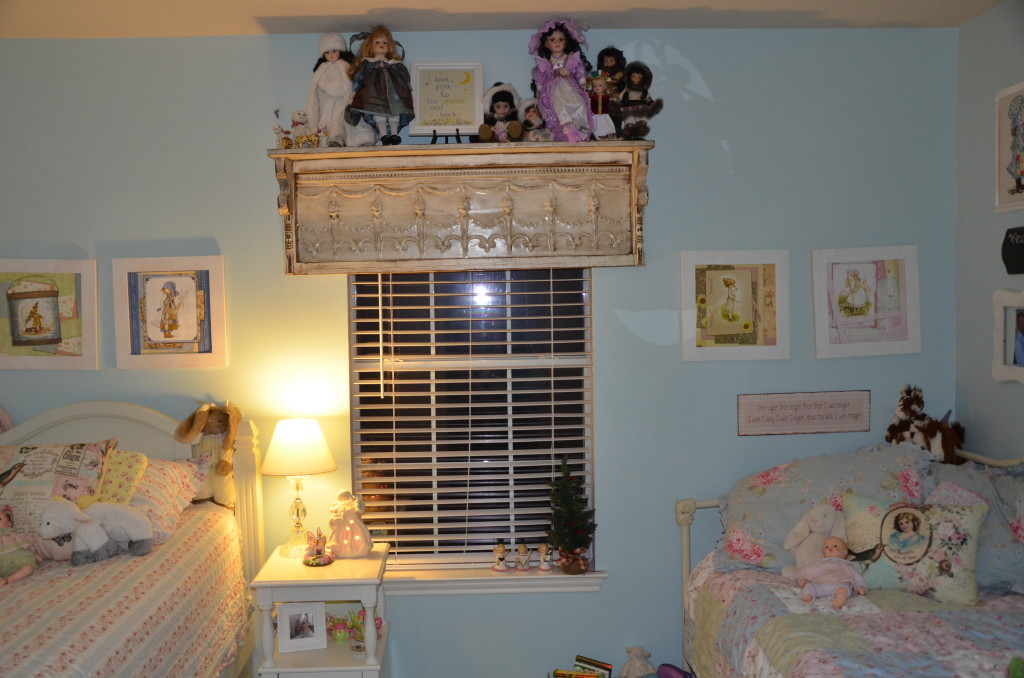 Those cups and saucers belonged to Chad's Grandma Margaret.  Aiden collects bells.  I just love that.  One is my Great Grandma Florida Nation's (yes! that was her real name!!)  It is engraved with "Happy" on it…because that is what everyone called her.  Can you even take it???  Happy was her nickname!  Like people really called her Happy!  One is my grandmother's.  One is Chad's grandmother's.  It's just plain awesomeness.  The instrument playing angels were my mom's.  Her grandmother gave them to her and they were in her room when she was growing up.  She happened to be in the room when I was setting them up.  She said, "That's funny.  That's exactly the way I always arranged them."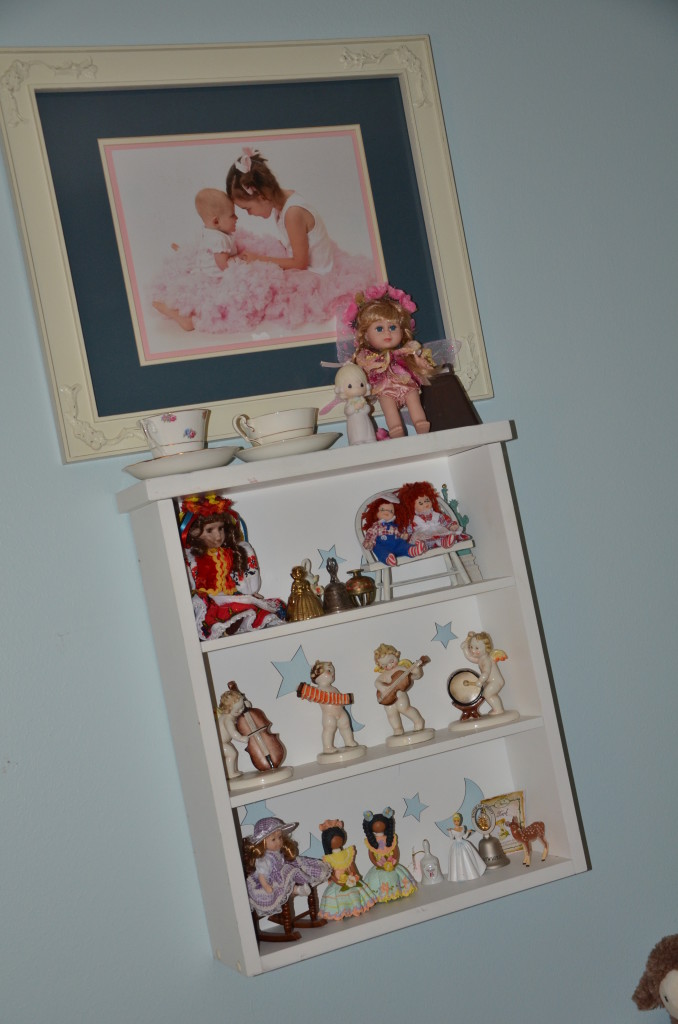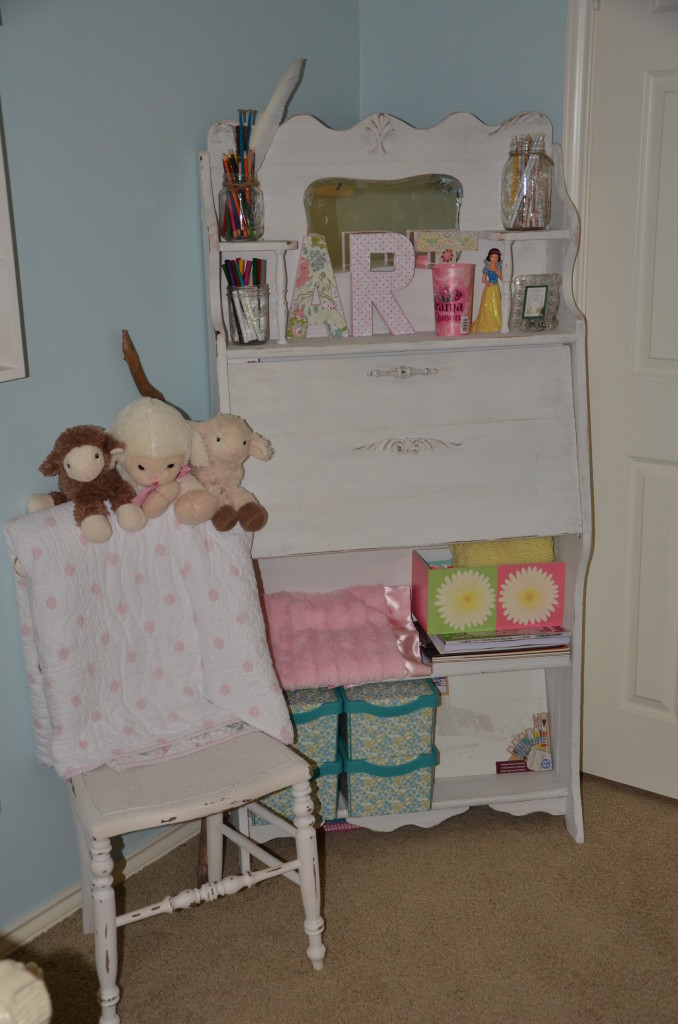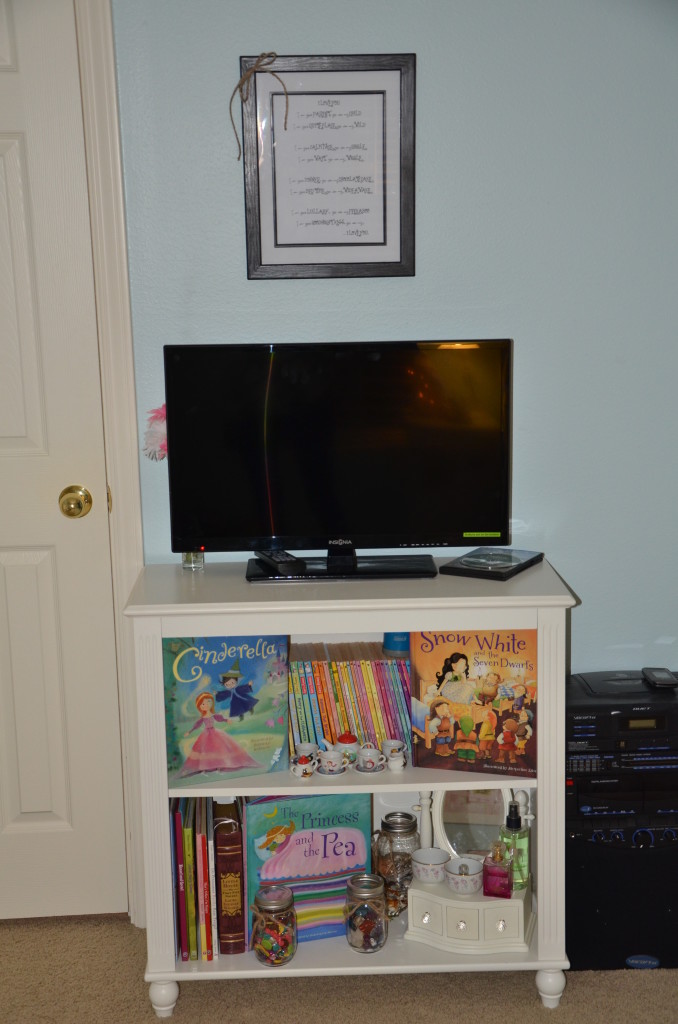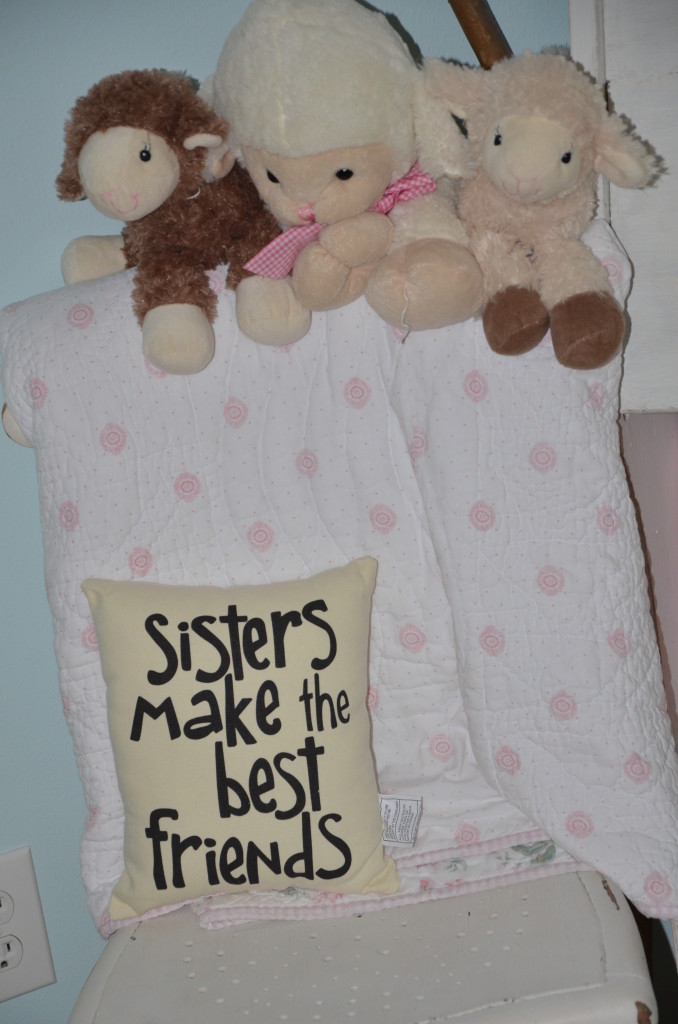 Dolls from Alaska, Ukraine, and all over Texas.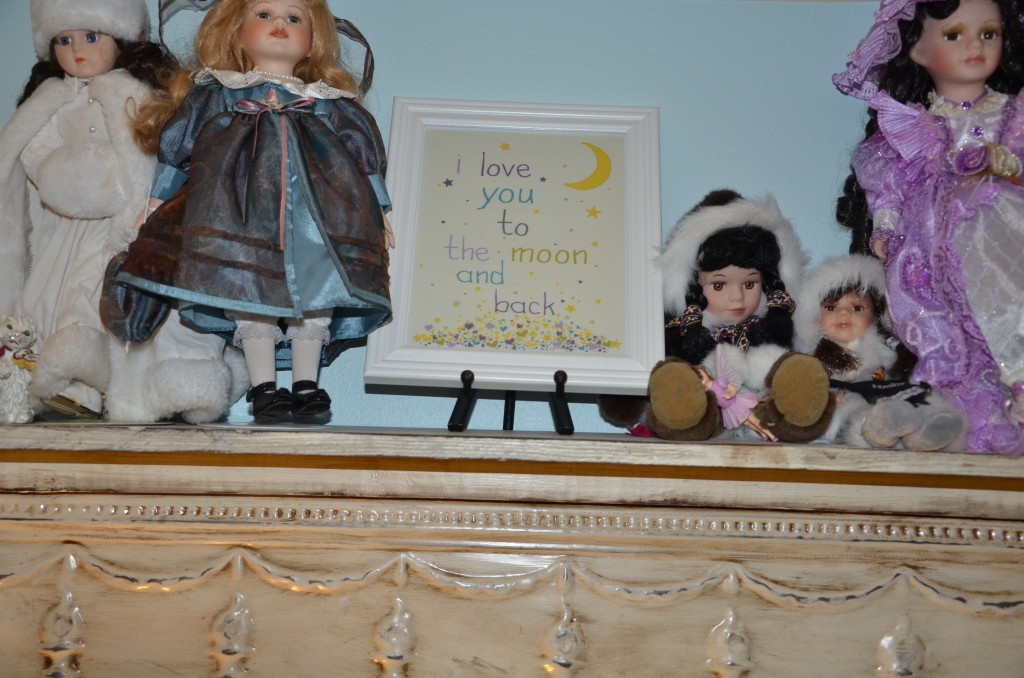 My mom stitched those Holly Hobby's and they were hanging in my room until around Jr. High.
I love this space.  I love everything about it.  I love that I hear them whisper at night.  I love that they argue over who gets to have the remote.  I love that we gather as a family here at bedtime to read the Bible together.  I love that I hear frozen music blaring from in there when I send them up to clean it.  I love that memories and sister bonds are being made in that space.  and I love that without us even knowing it…God was freeing up a room for a child that needs it.  Whoever that child may be.
Blind faith.  It's a magical thing.