Tomorrow is a new day.  His graces are new in the morning.  Hit the reset button.  The sun will come out tomorrow…
Or something like that.
I have stick-it notes everywhere.  It's highly possible and probable that if I don't write it down the minute I'm told…it's going to get lost in the black hole that my brain has become.  I used to call it "pregnancy brain."  But now I call it…"I-am-in-the-middle-of-adopting-a-three-year-old brain."  Even though this fifth child of ours has come to us through an entirely different process than the other four did…I am finding myself experiencing some of the same post-partum emotions and biological responses.  I'm feel super scattered.  My emotions jump all over the map.  And my expectations of myself are way too high.  Only the problem is…after you physically have a baby…people expect this from you.  In fact…it's so much expected that your community gathers around you and offers to make meals, come visit, fold your laundry, bring you things to help out…(like…here…try this pacifier because it worked wonders for me.  Or…here's a book that really helped me!  Or…these are the best burp rags…I just know you'll love them.)  Obviously not everyone who has a baby has this kind of support…but in this community…in my community…it's what we do.  It didn't even cross my mind that I may need some of that stuff now.  Obviously I don't need presents or anything…but I am finding myself needing a lot of encouragement…and wisdom from mommas who have done this before me…and rest…and grace.  I need to cry…and be afraid…and have someone to talk to when I feel like I don't know what I'm doing.  I need time to connect with my older kids…just like I did after each new baby would come along.  I need to be told that it's ok to take time to myself once in a while.
All that to say…I am not thinking entirely clearly all the time these days.  And it's likely that I'm not going to get that reading log signed every night…
…but the good news is…
everyone is alive.
****
We went to the High School football game Friday night.  Colt does not go to my old High School…but he does go to one in the same district.  And there is one district stadium for all five of the 6A high schools in the district.  So this football game took place in the same stadium that I spent every "football season" Friday night in for my four years of high school.  I kept telling the girls…"That is the very same field that I got to dance!"  And "Look at the drill team dancing!  That's what mommy did!!"  And "See those bleachers???  One time I dropped my pom pom under there and had to be let in that fence to go get it!!!"  At first they acted enthusiastic about the whole thing.  But eventually…they began rolling their eyes.  But…secretly…I know they were interested.
Since Aiden and Annslee were a part of the High School cheer camp…they got to cheer at the game.
They were both really nervous.  This was their first time to do anything in front of a big crowd…and in Texas…
Friday Night Lights is about the biggest crowd you can get!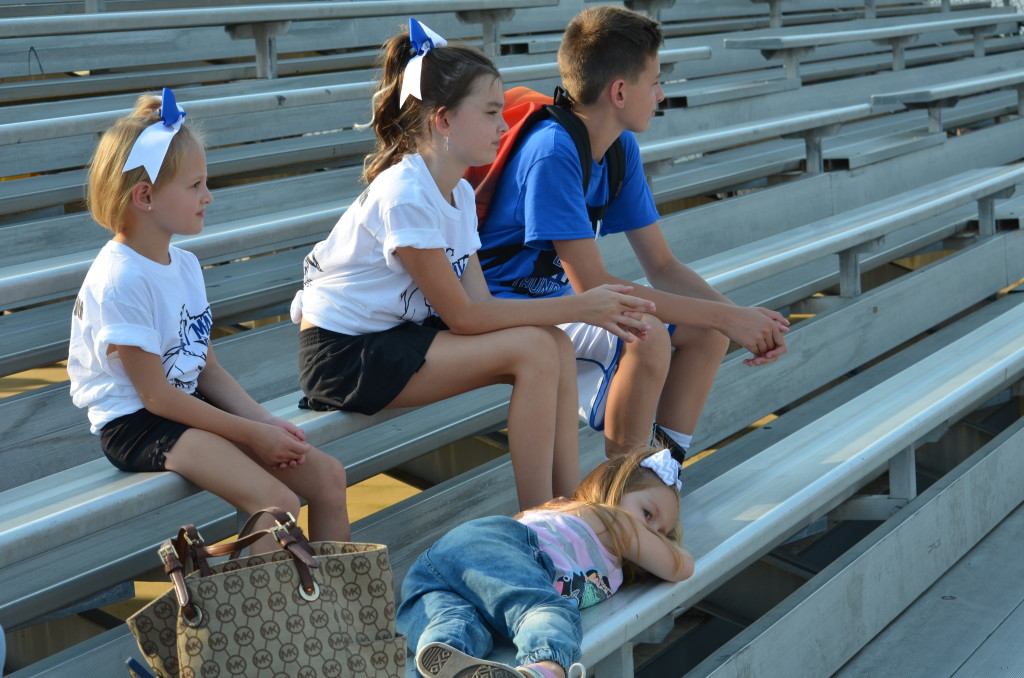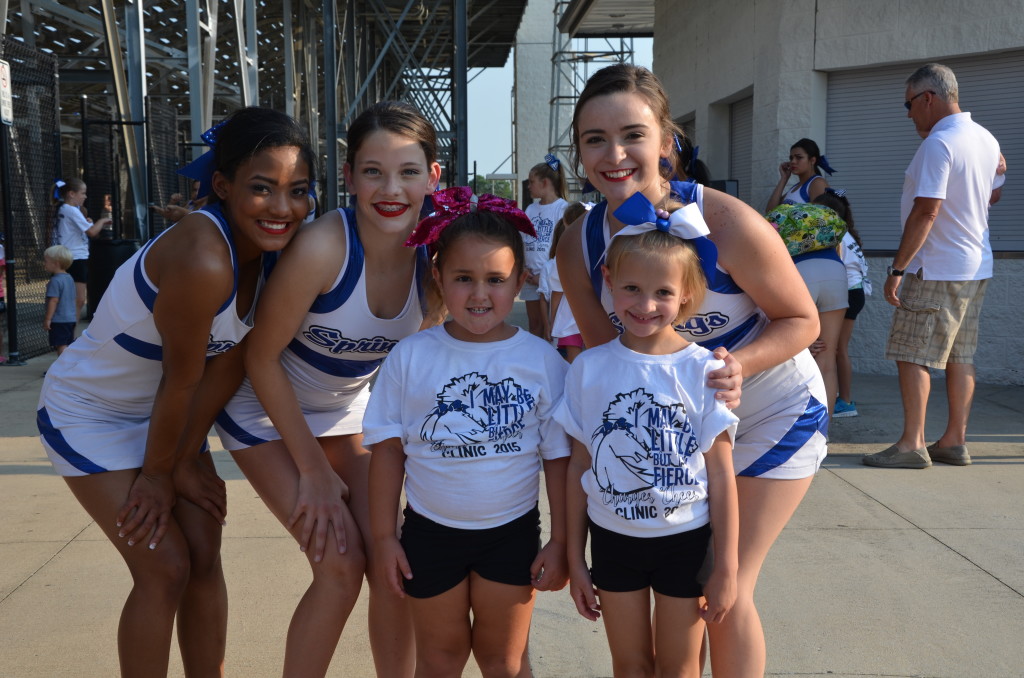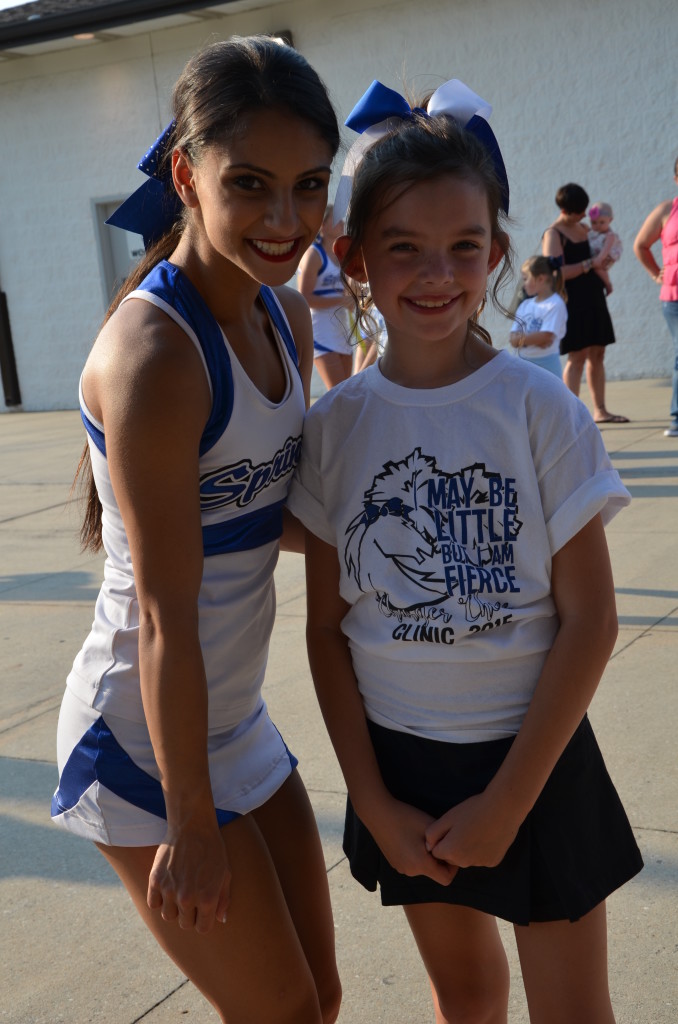 When I took this picture…I had one thought:
She's worried.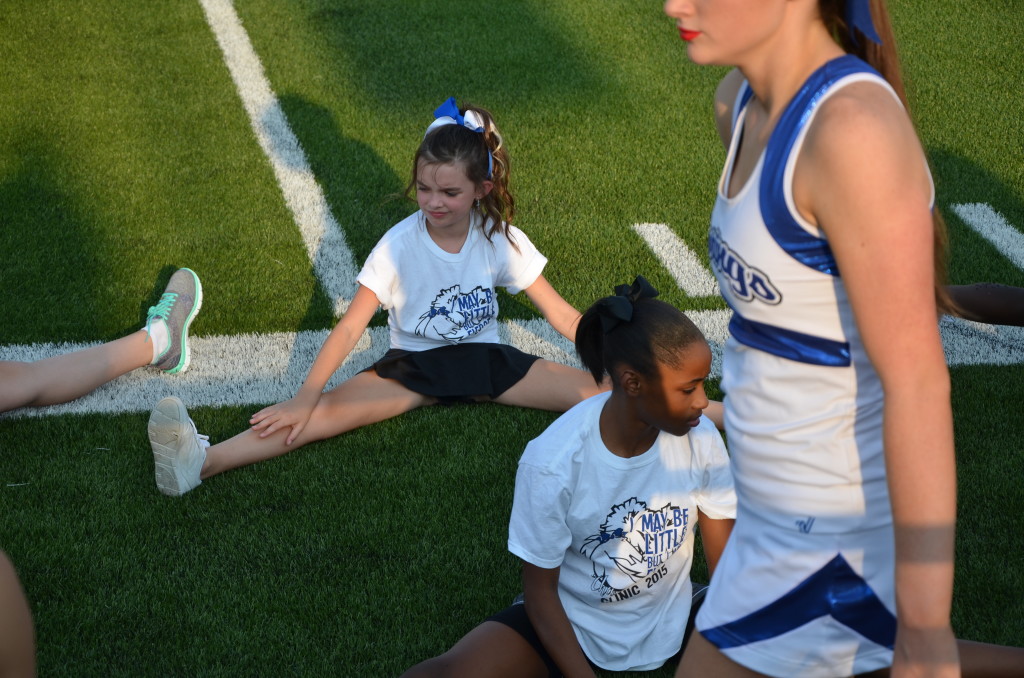 They warmed up their stunts as the crowd started trickling in…
Before we left the house…Annslee said, "I'm not doing it."
She kinda surprised me once she got out there and gave one of these instead of the whole "rolling-eyes-and-slouch-around-to-show-how-miserable-i-am" trick like she did during her Ballet recital last year.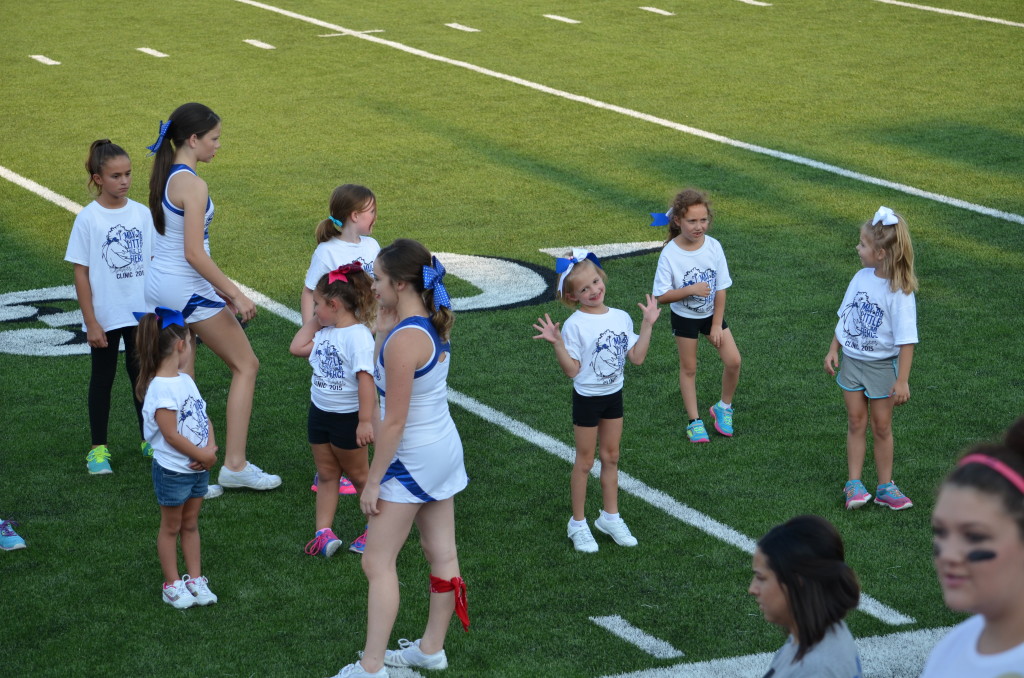 I can't be sure here…but I think she is looking for her big brother up in the Student Section.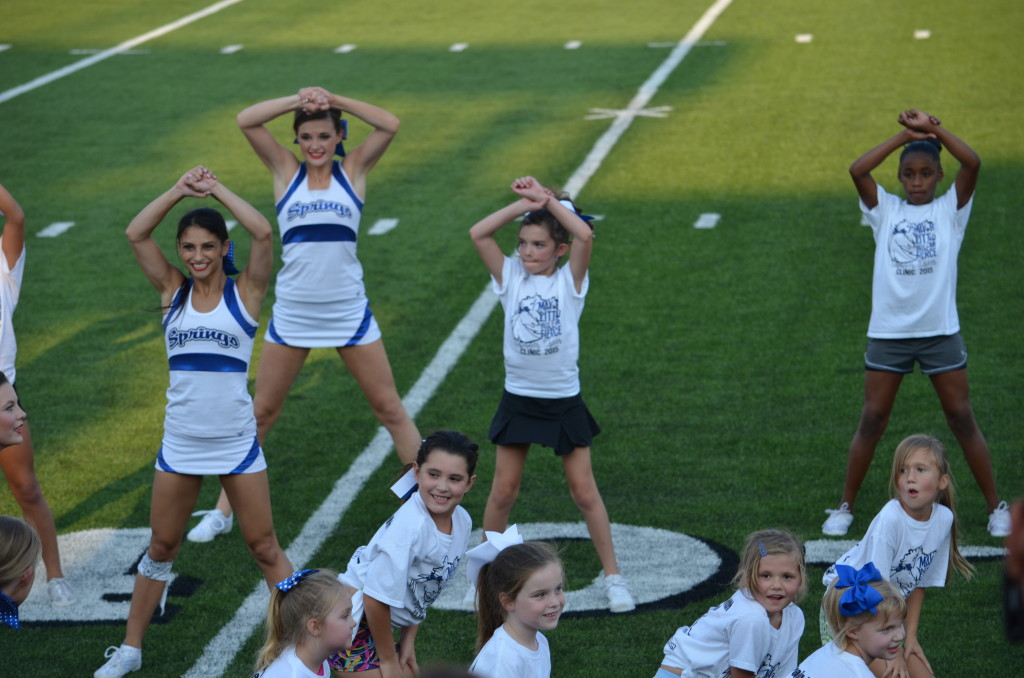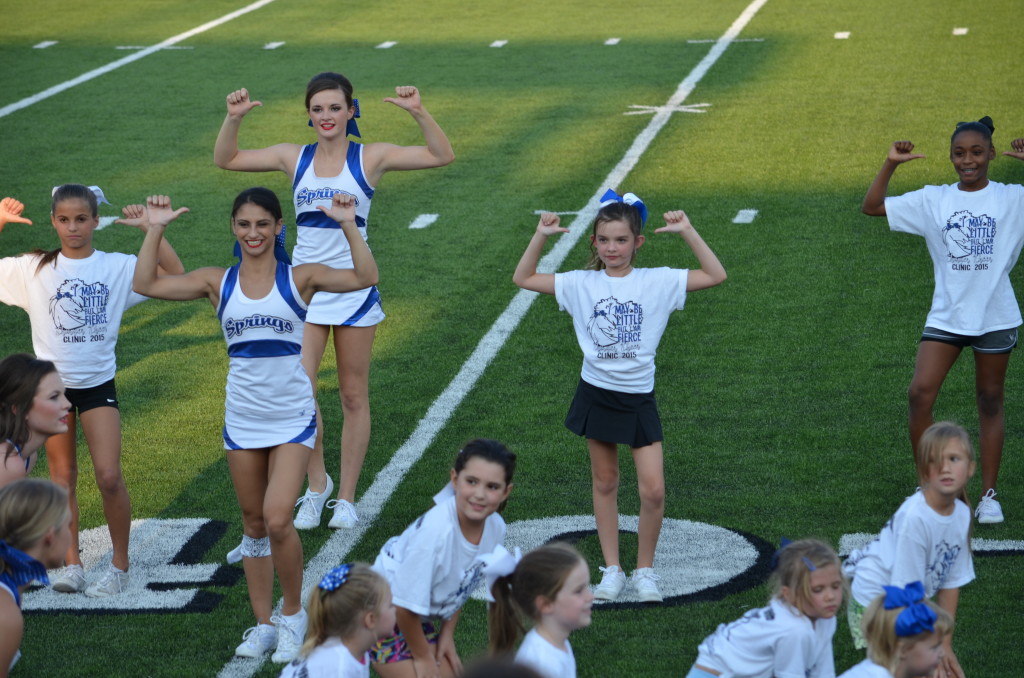 They both were the top of the pyramid…which I think they call "flyers" now.  That's where being little gets you.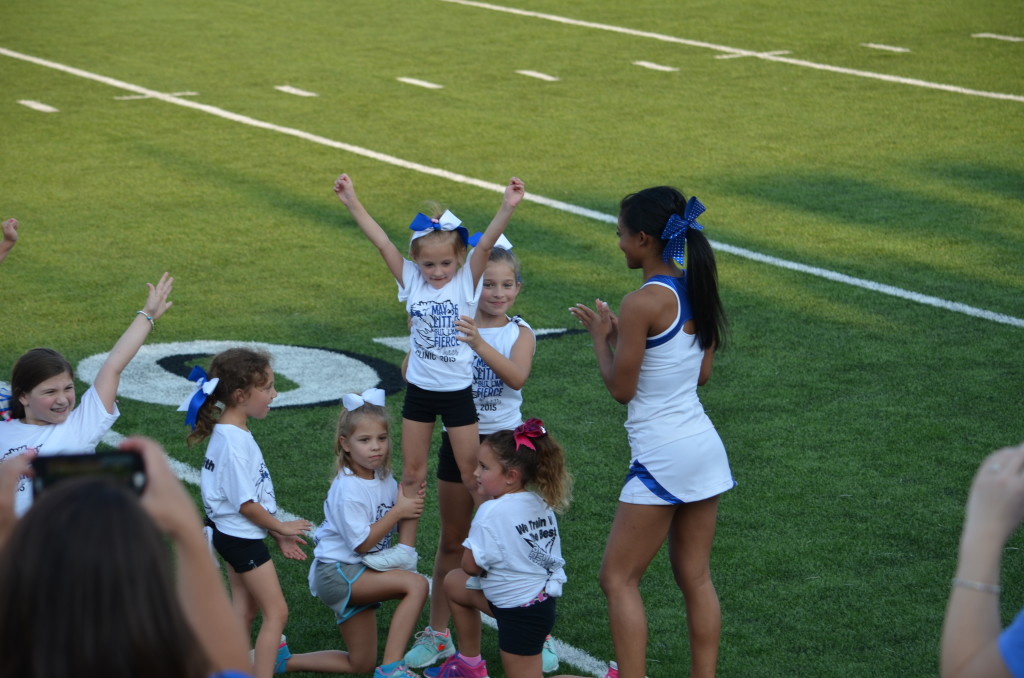 I love this one man…representing the other team.  The visitor's side definitely filled up late!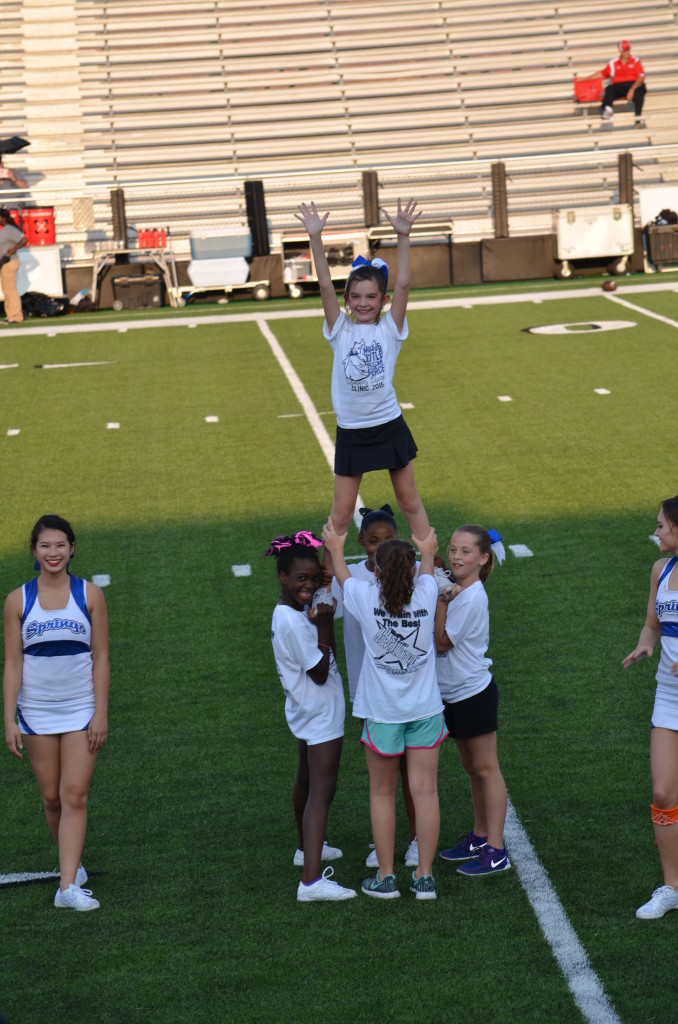 Aiden surprised me the most.  I'm seeing her come out of her shell and do things that she wouldn't normally do.  I can tell already…5th grade is going to be a big year for her.  And when I think about it…it was for me too.
I have been thinking, for several months now, that it was about time to have the sex talk with her.  I finally got around to it the other night.  It came up super naturally and I think we both felt comfortable.  I knew that I would always remember that sweet conversation…because she had a cat nose and whiskers left painted on her face from theme night at cheer.  It was such a reminder that she was still such a child…and still needed so much guidance and protection under her mother's wing.  As the conversation was naturally moving to a different topic…she said, "I don't get why God made it so disgusting!  I mean…why couldn't he have made it like a high 5 or something???"  I said, "Well…there sure would be a lot of babies out there if you could get pregnant from a high 5!"  She thought for a second…crinkled up her kitty cat nose…tilted her head to the side…and said, "Noggin?????"
Mothering older children still seems foreign to me sometimes.  I knew how to do babies.  I knew how to do toddlers and time-outs and Blue's Clues videos while I cooked dinner.  I knew how to do bedtime snuggles and lullabies.  I knew how to protect them and take care of them.  And all of that spoke love.  I know how to be a mom to older boys.  I've learned it.  My mind and heart have shifted to accommodate for different ways to love them.  It may be taking them to the Y to play Basketball or staying up extra late to talk to them even when my mind and body are worn out from the full day.  But here we are…with another new phase upon us–being a mom to an older girl!  And do you know what????  That's an entirely new set of rules and accommodations that I need to learn!  There really should be some sort of manual.  I mean…I got directions with the new skillet I bought yesterday!  But a whole daughter…
…nothing.
Okay then.  We will figure this thing out together.
And in attempting to do so…a few nights ago…I taught her how to shave her legs.  SHAVE HER LEGS!!!!  I might as well have been fastening her wedding veil into her hair!
She bounced out into the living room to show her brothers and her father how smooth her legs were.
I think Chase's exact words were, "AIDEN????  YOU SHAVED YOUR LEGS??????  WHYYYYYYY?!?!?!?!?"
I looked at Colt's face…laughed…and said, "You're sister is growing up!"
He just lowered his head and mumbled,
"It makes my head hurt."
So for today…the baby bird gets to take little flights.  She gets to practice freedom with a safety net.  She gets to flap her wings and be the flyer at the football game.  And then she gets to come right back under my wing and learn more.  And for this momma…
it's a beautiful thing to watch.